Edit Oct 31: Happy Halloween! For the next 24 hours, starting at 8pm EDT Oct 31, every pattern in this Haunted Halloween Countdown is free! So if you ran into technical difficulties or you didn't discover this countdown until last week, you have access to all of it!

Get ready for a month of spooktacular fun!
Each day, we'll unveil a fresh pattern on our Instagram and blog – and here's the exciting twist: it's free for that day only!
The next day, a new freebie arrives, and the previous day's pattern becomes available for purchase.
Don't miss out – check back daily for your free treats!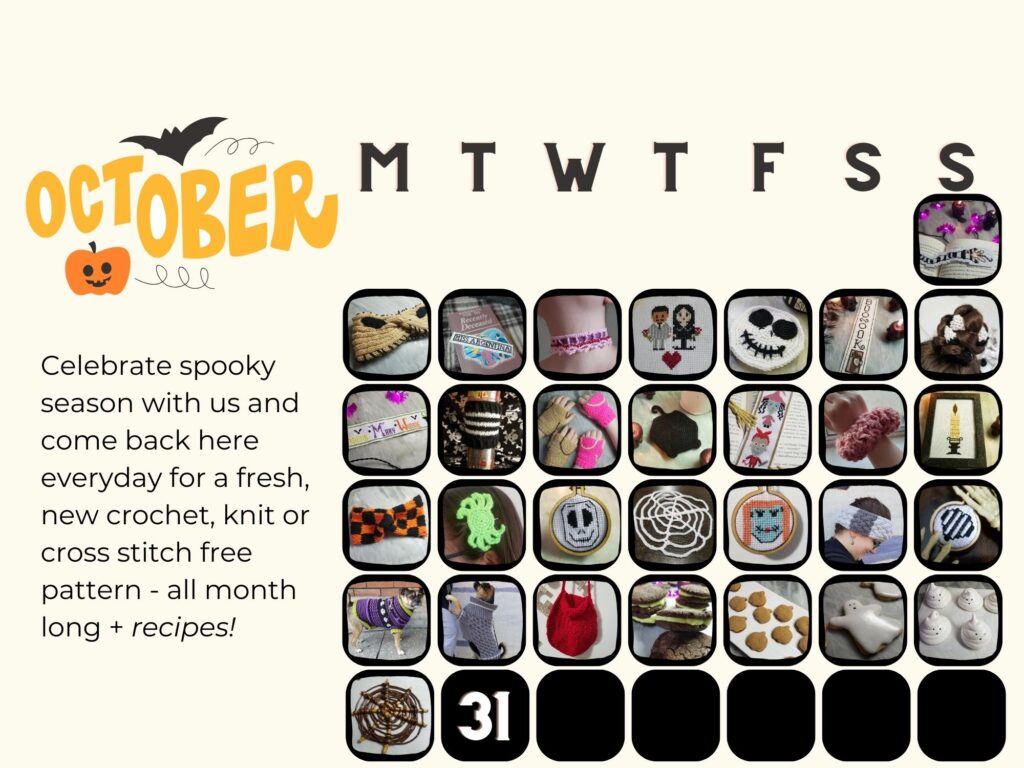 Come back every day to see this list grow!
Day 1 – Sandworm Bookmark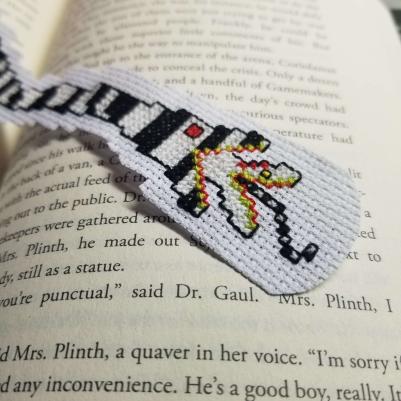 Inspired by the sandworms in Beetlejuice, we are starting out our Haunted Halloween Countdown with this fun and simple cross stitch pattern. Fill in the form and it's yours!
Day 2 – Oogie Boogie Headband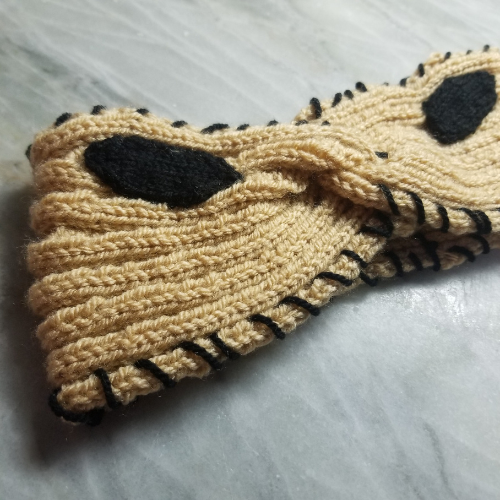 This knitted headband was inspired by Oogie Boogie from Nightmare Before Christmas and is a great first project for a new knitter and a quick knit for an experienced knitter.
Day 3 – Miss Argentina Bookmark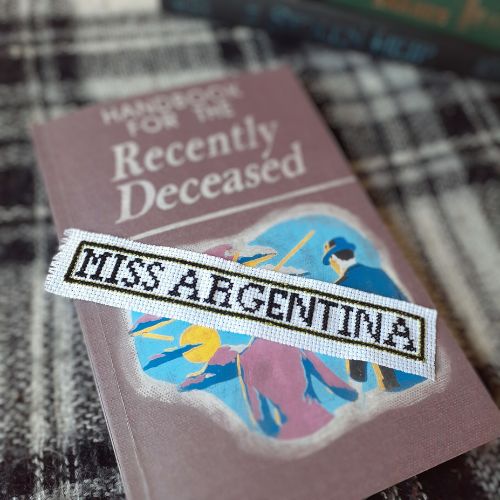 This bookmark pattern is inspired by everyone's favourite green receptionist in the Netherworld Waiting Room, Miss Argentina in Beetlejuice.
Day 4 – Sarah's Choker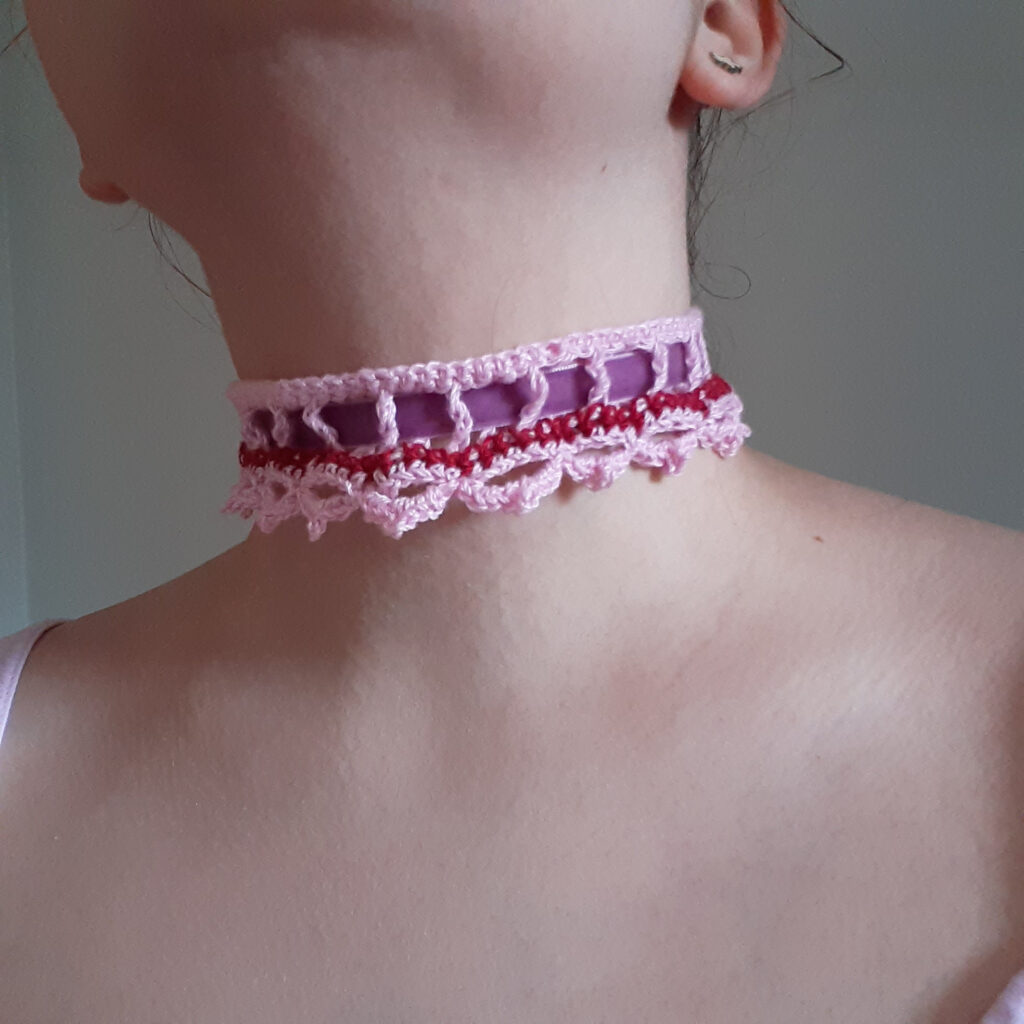 Sarah's Choker was named after and inspired by Sarah Sanderson of our favourite witchy trio! This intermediate project is the perfect accessory in so many different color combos.
Day 5 – What's This? Coaster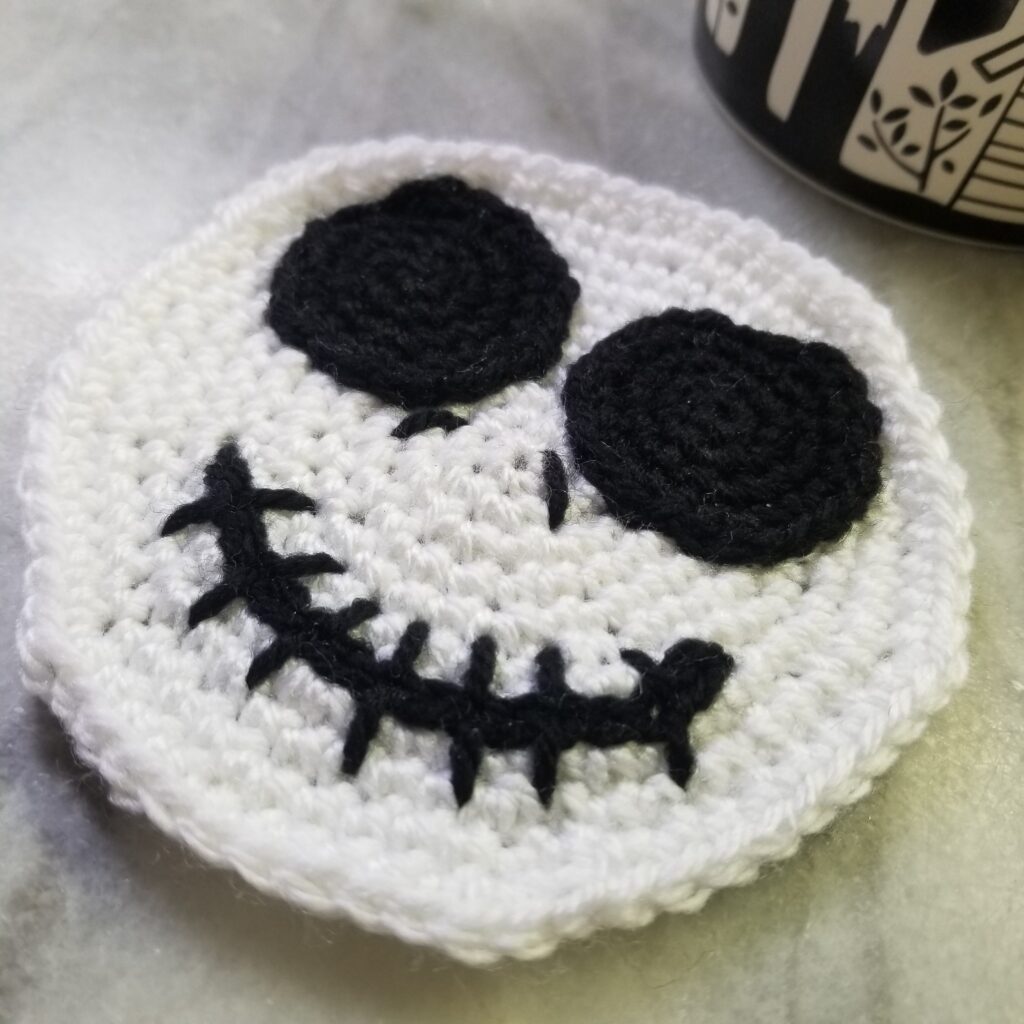 The What's This? Coaster was named after and inspired by Jack Skellington's song from one of our favourite Halloween movies! This beginner project is quick and easy, the perfect subtle spooky touch for your drinks.
Day 6 – 'Til Death Mini Hoop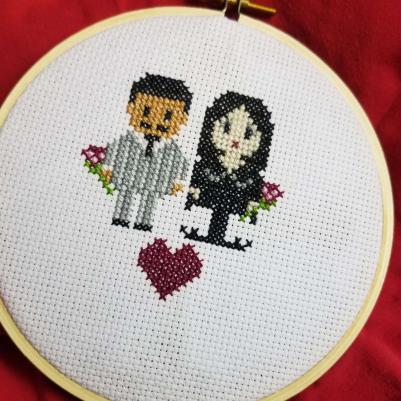 Celebrate a goth fairy tale love story with this mini hoop featuring Gomez and Morticia Addams.
Day 7 – Book Bookmark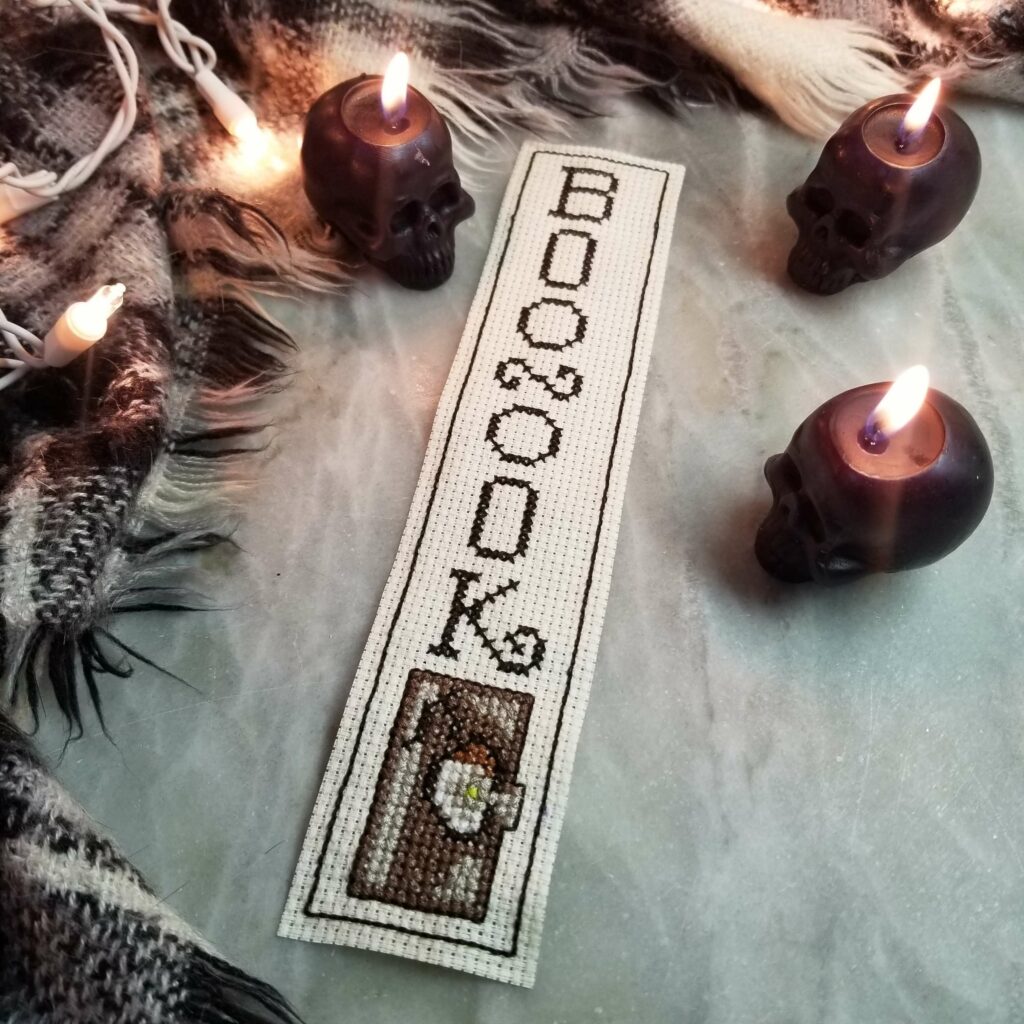 Part of our Haunted Halloween Countdown Collection, this bookmark cross-stitch
pattern is inspired by Winifred Sanderson's spellbook from Hocus Pocus.
Day 8 – Wednesday's Ribbon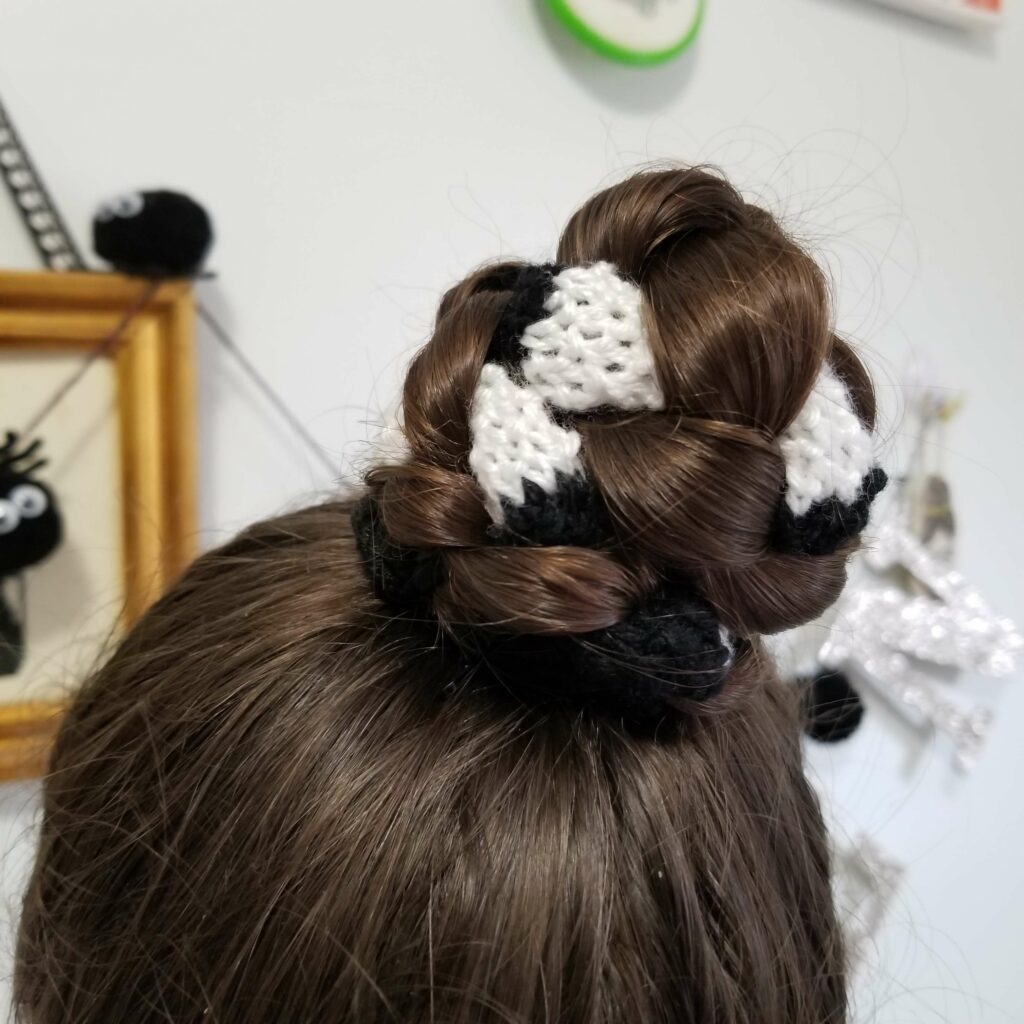 Inspired by Wednesday Addams and her affinity for braids, this black and white hair ribbon was designed for weaving into braids, and makes a cute little headband, too!
Day 9 – The Witches Bookmark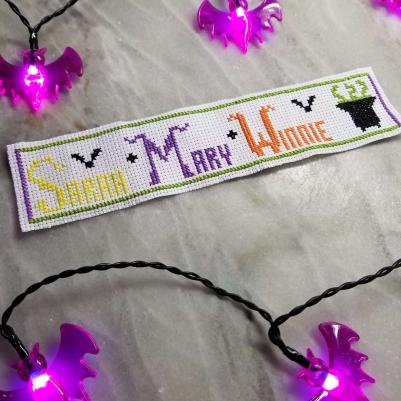 Part of our Haunted Halloween Countdown Collection, this bookmark cross-stitch pattern is inspired by the Sanderson sisters from Hocus Pocus.
Day 10 – Striped Travel Mug Cozy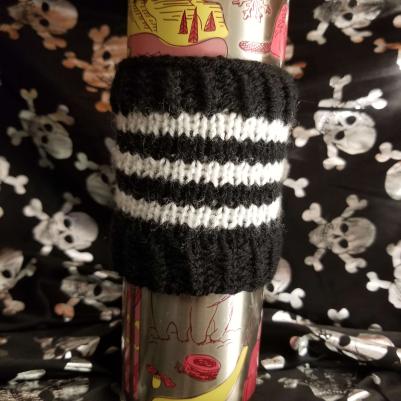 Part of our Haunted Halloween Countdown Collection, this knitted mug cozy was inspired by Beetlejuice! The cozy is a simple but fun knit, working up quickly in an afternoon.
Day 11 – Thing Fingerless Mitts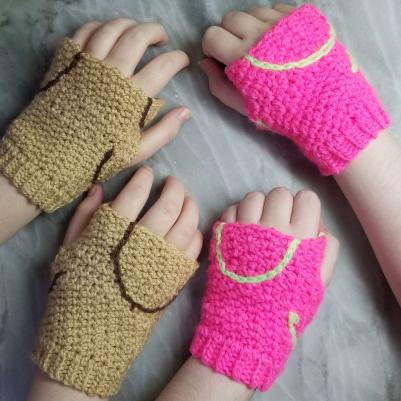 The 'Thing' Fingerless Mitts are inspired by and named after Thing from the Addams Family. These mitts use a simple surface crochet technique to replicate the iconic scars along Thing's hands.
Day 12 – Binx's Bum Coaster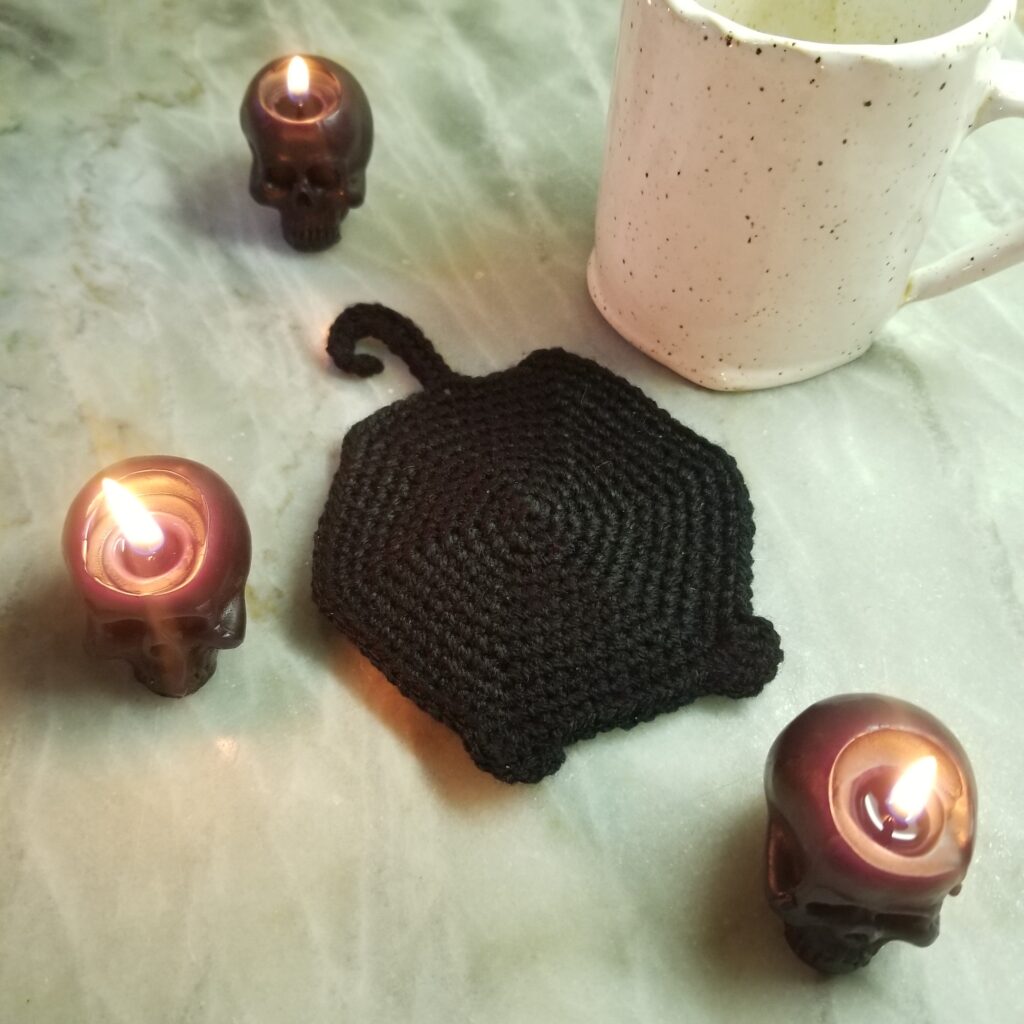 Binx's Bum is an adorable and easy coaster pattern. It's worked in the round, with the tail and feet worked in the final row to create the iconic cat silhouette.
Day 13 – Trick or Treat Bookmark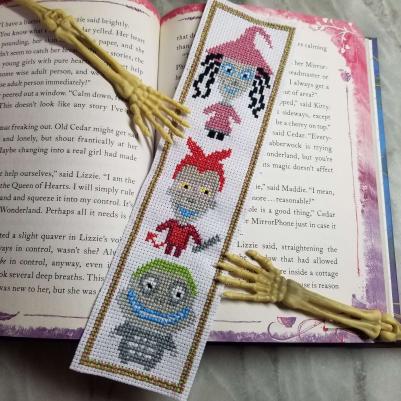 This cross stitched bookmark is a nod to Halloweentown's best trick or treaters!
This design, 31 stitches by 125 stitches on 14 count Aida cloth, uses 12 colors and easily works up over a weekend.
Day 14 – Finkelstein's Brain (Scrunchie)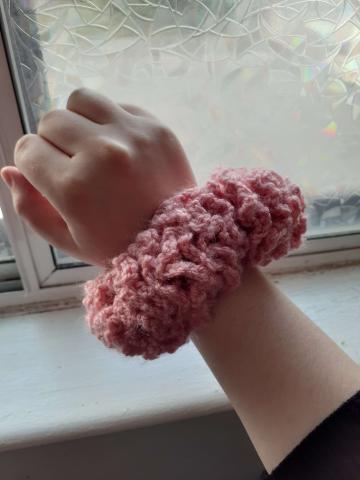 Dr. Finkelstein's Brain Scrunchie is an incredibly ruffled scrunchie pattern. It works up easily in just a few hours. The large ruffles create a brain-like texture that matches the movie perfectly.
Day 15 – Black Flame Candle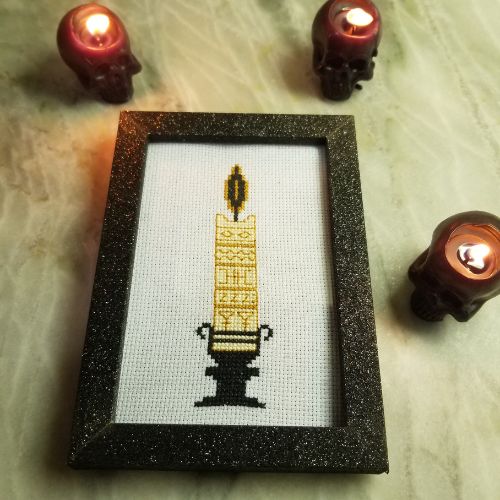 This cross stitched candle can be framed, as pictured, or used as a bookmark.
Day 16 – Checkered Twist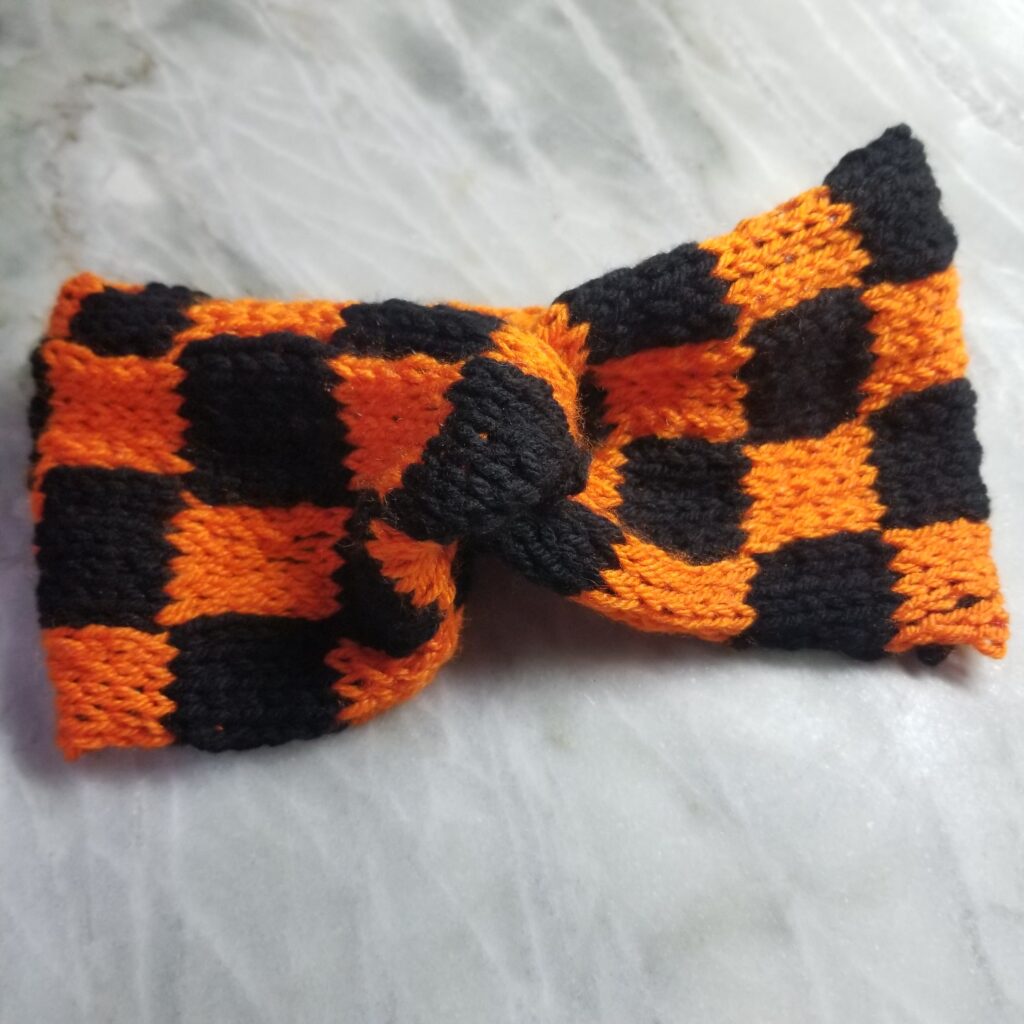 Our Checkered Twist puts a little spooky 'twist' on the classic twisted headband!
Day 17 – Mayor's Spider Pin Hairclip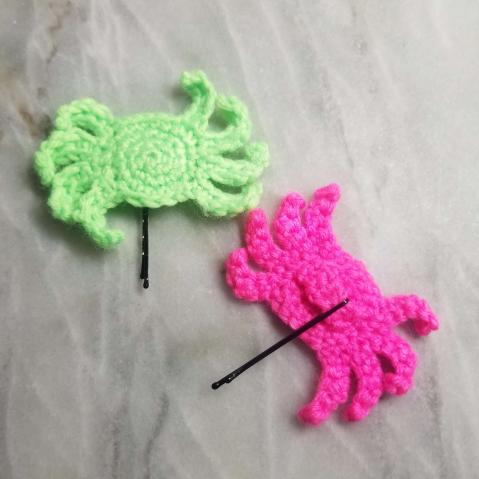 The Mayor's Spider is a spider hair pin that works up in under an hour in a worsted weight yarn. The simple design can easily be crocheted in any other weight, with the appropriate hook size.
Day 18 – Mini Jack Head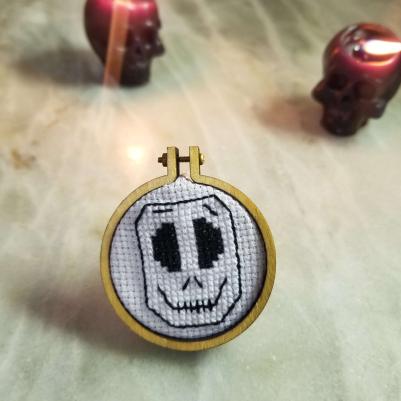 Part of our Haunted Halloween Countdown Collection, this mini cross stitch Jack Skellington head is the perfect miniature Halloween decor.
Day 19 – In the Corners Crochet Cobweb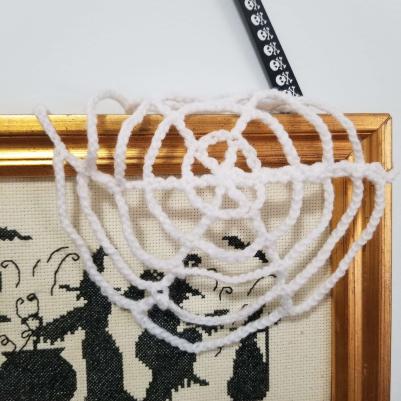 The In The Corners crochet cobweb pattern is the perfect simple spooky pattern to decorate with for Halloween. Cobwebs are an iconic symbol of the spooky season, and we see them throughout the decor and crafts of
October.
Day 20 – Mini Sally Head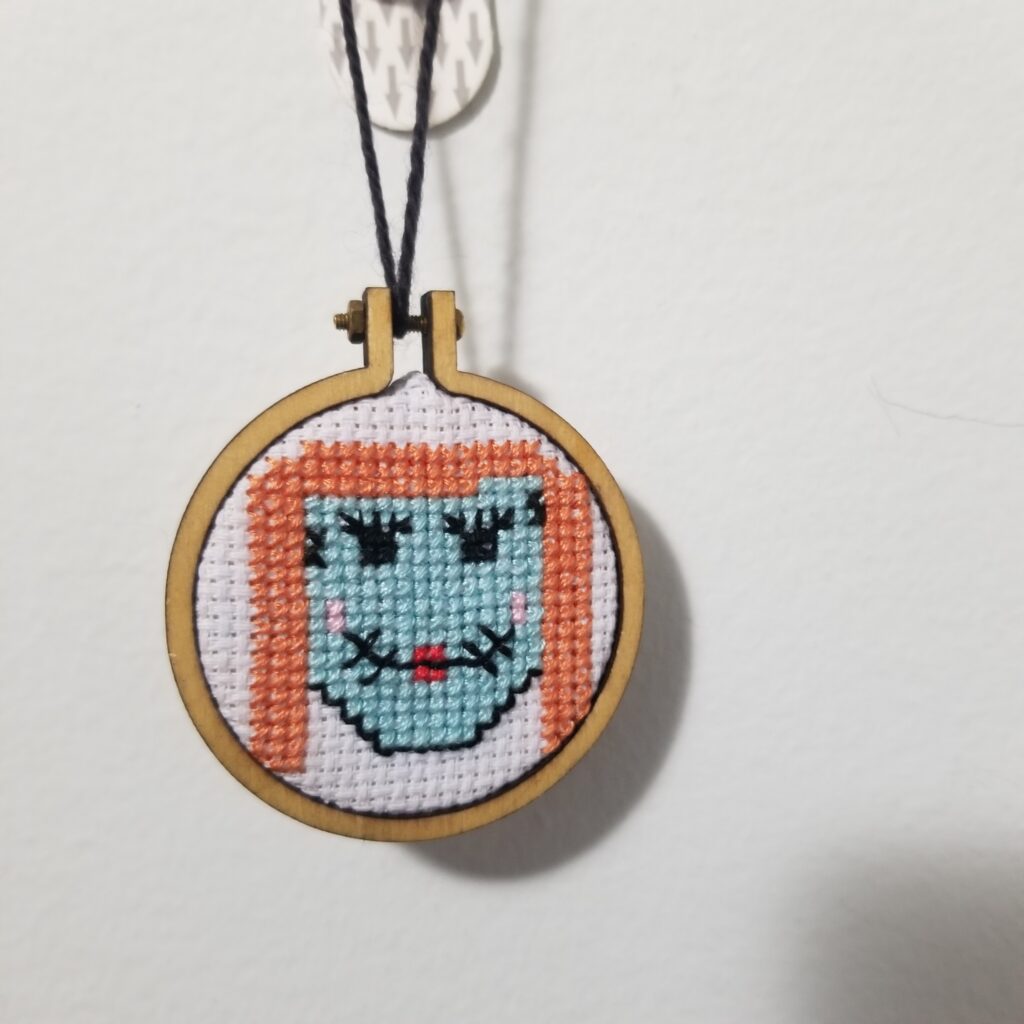 Part of our Haunted Halloween Countdown Collection, this mini cross stitch Sally head is the perfect miniature Halloween decor.
Day 21 – Frankenweenie Headband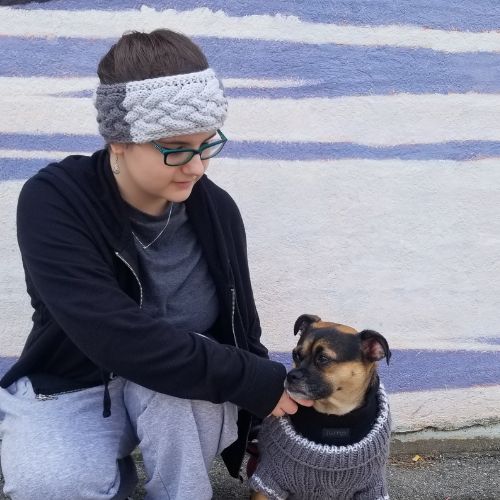 This pattern is flat, with an icord edge and is seamed once knitting is complete. To create the colorblock pattern as shown, work 4 repeats of the cable pattern in the CC, followed by 2 repeats of the cable pattern in the MC. Have fun with it and mix up your colors however you like!
Day 22 – Mini Striped Heart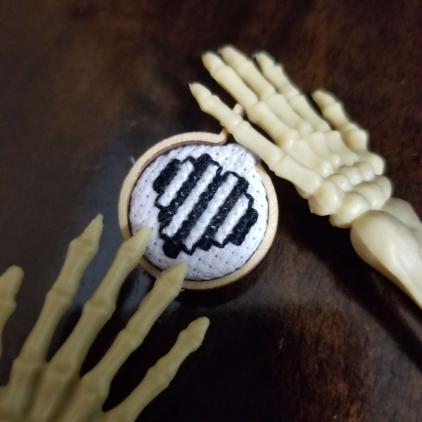 So many of the most iconic Halloween movies include black and white stripes! We had to include a super mini version – and this one qualifies as it is under 1″ wide!
Day 23 – This is Halloween Dog Sweater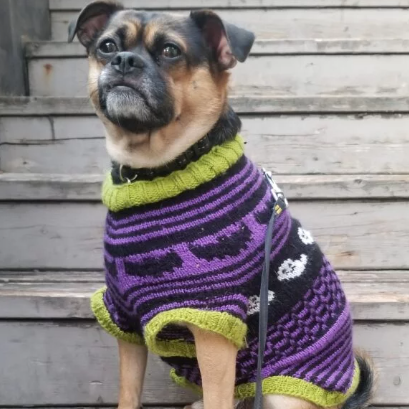 This knit sweater pattern is already a fan favourite. Released last year, this sweater has been worn by pups all year long already and we're including it as today's free download to celebrate the last week of this countdown!
Use code: HAUNTED on Ravelry!
Day 24 – Frankenweenie Dog Sweater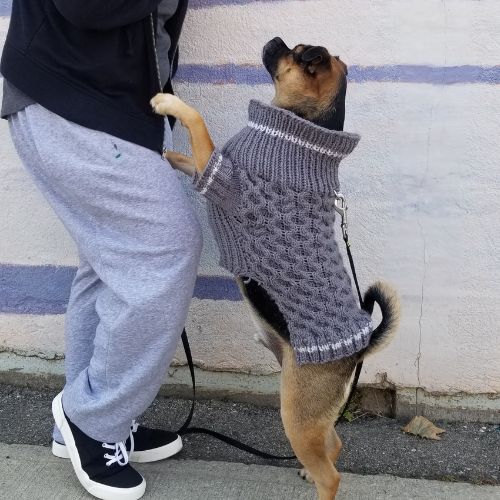 This knitted dog sweater was designed as part of a matching set with the Frankenweenie
Headband so you can match your pup!

This sweater is knit flat in two pieces and the sleeves are picked up and knit once the pieces are joined. The cables are a fun and dressy touch to an otherwise simple dog sweater.
Day 25 – Blood Drop Bag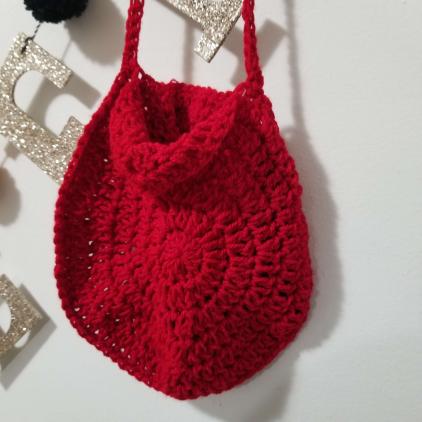 The Blood Drop Bag is the perfect mini crochet purse for you this spooky season! It works up in just an hour or two and is perfect for holding your essentials during any fun fall outing. The teardrop shape and red color give it the perfect subtle Halloween pop.
Day 26 – Homemade Spooky Oreos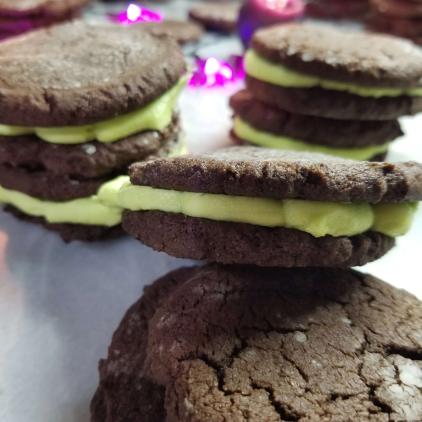 With just 5 sleeps until Halloween, we know everyone is getting busier and has less time for crafting – and we've got you covered!
Starting today, we're sharing a fun Halloweeny recipe we've developed every day until Halloween!
These homespun Oreos are easy enough to whip up in under an hour and you can customize your filling colour!
Day 27 – Soft Cinnamon Cutout Cookies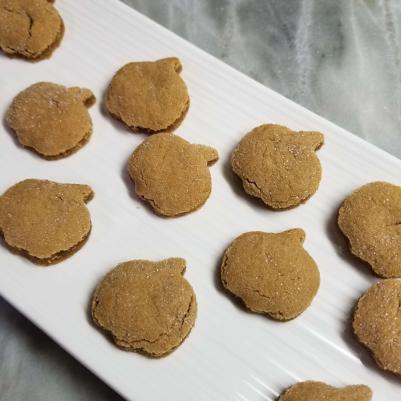 Get ready for some spook-tacular (and soooper simple) fun as you enter the enchanting world of our Soft Cinnamon Cutout Cookies. These easy-to-make cookies, infused with the hauntingly aromatic essence of nutmeg, are perfect for enjoying a year-round taste of the supernatural.
Day 28 – Ethel's Sturdy Sugar Cookies
The key to Ethel's Sturdy Sugar Cookies is their unique texture. These cookies are perfectly sturdy, which means they can hold up to intricate shapes and decorating without breaking. The secret lies in the dough. Instead of requiring chilling before rolling out, this recipe lets you start right away. It's a time saver, especially when you have little ones eager to get involved in the kitchen.
Day 29 – Ghost Meringues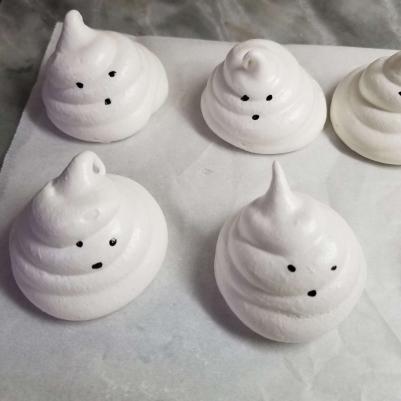 Let's talk about the little clouds of happiness known as meringues. They're sweet, light, and have the power to transport your taste buds to dessert heaven. But what's even better? They're as versatile as they are delicious. The star of our show today is the 'Perfect Meringue,' and trust us, it's a ghostly good time!
Day 30 – Chocolate Pretzel Spiderwebs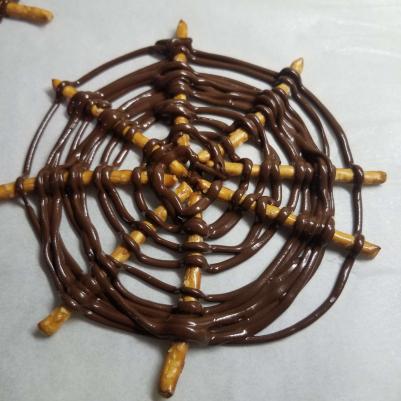 One tradition that's become a staple in many households is crafting Halloween-themed treats. And what better way to celebrate than by making something that captures the essence of the holiday? That's where our Chocolate Pretzel Spiderwebs come into play.
Day 31 – Black Velvet Cupcakes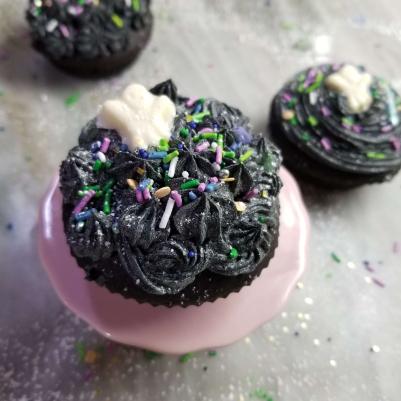 As the Halloween countdown comes to an end, we've been brewing up all sorts of spooky and sweet treats to make your October extra special. And what better way to conclude this eerie adventure than with a dessert that's as dark as the midnight hour? Enter our 'Black Velvet Cupcakes,' a bewitching delight that will captivate your taste buds and complete your Halloween festivities.

Find the recipe here.