As the Halloween countdown comes to an end, we've been brewing up all sorts of spooky and sweet treats to make your October extra special. And what better way to conclude this eerie adventure than with a dessert that's as dark as the midnight hour? Enter our 'Black Velvet Cupcakes,' a bewitching delight that will captivate your taste buds and complete your Halloween festivities.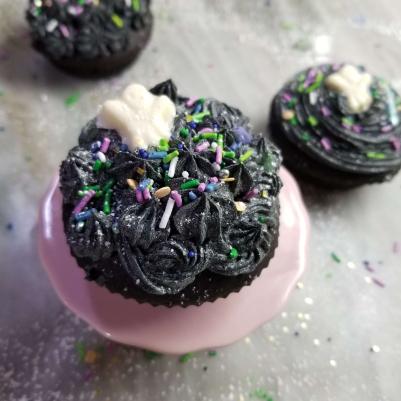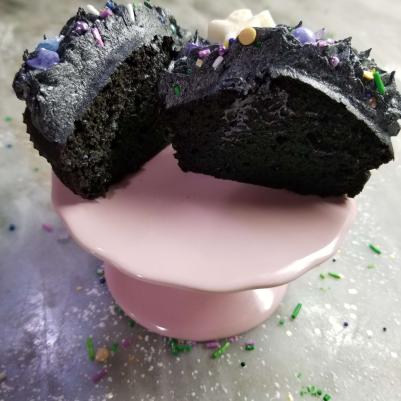 The Allure of Black Velvet
If you're a fan of traditional red velvet cupcakes, you're in for a delightful surprise. These 'Black Velvet Cupcakes' are like the enigmatic, darker sibling of their classic counterpart. Dark cocoa is the star here, infusing the cupcakes with an intense, almost mysterious flavor. The result is a treat that's rich, moist, and utterly irresistible.
The Magic is in the Details
While we're saving the full recipe for the grand reveal, we can't resist sharing a little enchantment with you. It's all about the icing. Yes, that velvety, creamy goodness on top of your cupcakes deserves some special attention.
To embrace the spooky spirit of Halloween even more, consider tinting the icing to match the theme. But here's the secret to making it truly magical – start with black food coloring that's based on another color, like purple. Adding a hint of purple to your black coloring will give it an extra dimension and depth, taking your cupcakes to a whole new level of enchantment.
Versatility in Design
What's wonderful about 'Black Velvet Cupcakes' is that they're a canvas for your creativity. The dark hue provides the perfect backdrop for decorations. You can go all out with Halloween-themed toppers like spiders, witches' hats, or pumpkins. Or, if you prefer a more elegant approach, you can keep it simple with a dusting of edible glitter or a drizzle of contrasting-colored icing.
A Sweet Farewell to Halloween
As we bid adieu to our Halloween countdown, we can't help but feel a tinge of sadness. The magic of this holiday has a unique way of bringing people together through fun, creativity, and, of course, sweet treats. 'Black Velvet Cupcakes' serve as a fitting farewell, symbolizing the end of a spooktacular journey that's left us with memories and traditions to cherish.
So, prepare to embrace the magic of 'Black Velvet Cupcakes' as a grand finale to your Halloween celebrations. We'll leave you with this tip to make your cupcakes even more enchanting. Stay tuned for the full recipe, and until next Halloween, keep the spirit alive. 🕷️
Black Velvet Cupcakes
Chocolate cake, but make it spooky!
Ingredients
1½

cups

flour

⅓

cup

Dutch process dark cocoa powder

1

tsp

baking soda

1

cup

sugar

⅓

cup

oil

any neutral oil, like peanut

1

cup

water

1

tsp

vanilla extract

1

tsp

white vinegar

food colouring
Instructions
Sift together flour, cocoa and baking soda.

Combine oil, water, vanilla and white vinegar.

Mix the wet ingredients into the dry ingredients.

Slowly add drops of black food colouring until desired shade.

Pour into lined cupcake tray, makes 12.