Let's talk about the little clouds of happiness known as meringues. They're sweet, light, and have the power to transport your taste buds to dessert heaven. But what's even better? They're as versatile as they are delicious. The star of our show today is the 'Perfect Meringue,' and trust us, it's a ghostly good time!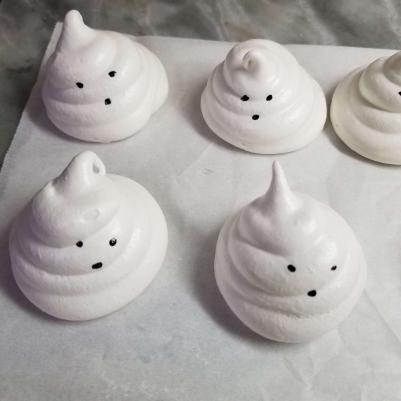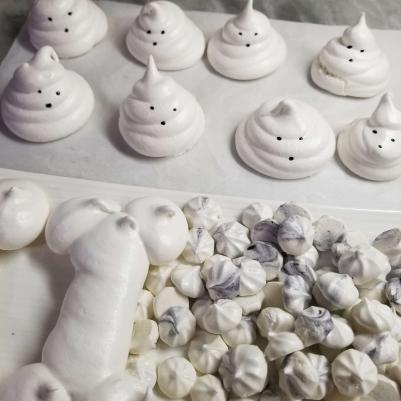 Unpacking the Magic of Meringues
Meringues have been sprinkling joy for generations, and it's not hard to see why. With just three main ingredients – egg whites, sugar, and a drop of vanilla – these airy treats come to life. The real sorcery happens when you whisk those egg whites into stiff, shiny peaks, and that's where the fun begins.
Low-Effort, High-Enchantment
Picture this: A recipe that demands minimal effort but delivers maximum enchantment. Once your egg whites are whisked to perfection, you pipe your meringues onto a baking sheet, and let your oven do the rest. It's like kitchen magic at its finest!
Shape-Shifting Delights
Meringues love to play dress-up, and we're here for it. For Halloween, we're getting spooky with ghost-shaped meringues that add a playful, eerie vibe to your sweets spread. But here's the kicker – these magical morsels are shape-shifters. You can pipe them into any form you desire. Stars, hearts, swirls, or even fluffy clouds – your creativity is the limit.
From Kids to Grandparents – Everyone's a Fan
One thing's for sure – meringues are a hit with everyone. These sweet, crunchy clouds of goodness have a universal appeal. Whether you're baking with kids or serving them at a fancy dinner party, meringues are always the life of the party. Plus, they're incredibly photogenic, making your Instagram game strong!
Perfect Meringues, Ghost Edition
With just three simple ingredients and minimal effort, they're the perfect treat for big rewards – everyone loves these delicate morsels!
Ingredients
4

egg whites

1½

cups

sugar

½

tsp

vanilla

preferably, clear
Instructions
Using the medium / high speed on your stand up or hand mixer, beat egg whites until soft peaks begin to form.

Slowly add the sugar and continue beating until stiff peaks form.

Continue beating to mix in the vanilla.

Scoop meringue mixture into pastry bag and pipe onto parchment paper lined cookie sheets.

Bake at 200F for 1 hour. Leaving oven door closed, turn oven off and let meringues set inside warm oven for 2 hours.