Halloween is just around the corner, and it's the perfect time to indulge in delicious, spooktacular treats. Whether you're planning a Halloween party or simply want to satisfy your sweet tooth, our Homemade Chocolate Sandwich Cookies are the answer. These delectable cookies closely resemble the iconic store-bought brand, but we've elevated them with quality ingredients and a special twist – you can customize the icing color to match the holiday or your mood.
A Classic Cookie with a Homemade Twist
Chocolate sandwich cookies have been a beloved classic for generations. The combination of rich, chocolatey cookies and creamy vanilla filling is simply irresistible. However, the store-bought versions may leave you wanting something more – more flavor, more quality, and more fun. That's where our Homemade Chocolate Sandwich Cookies come in.
Quality Ingredients Make All the Difference
Our recipe starts with the finest, high-quality ingredients. We use premium cocoa powder to create the deep, intense chocolate flavor that you crave. The result is a cookie that's richer and more satisfying than any you'll find in a package.
The creamy filling is made from real butter, pure vanilla extract, and the perfect amount of confectioners' sugar. It's a step up from the overly sweet, artificial fillings of store-bought cookies, providing a smooth, decadent contrast to the chocolatey cookies.
Customize Your Cookie Experience
What sets our Homemade Chocolate Sandwich Cookies apart is the ability to customize the icing color. While the classic white filling is always a crowd-pleaser, these cookies are the ideal canvas for celebrating any occasion or mood. With a few drops of food coloring, you can transform the filling into vibrant shades of orange and black for Halloween, deep reds for Valentine's Day, or even soft pastels for a baby shower. The possibilities are limited only by your imagination.
A Labor of Love
Creating these Homemade Chocolate Sandwich Cookies is a labor of love. Each batch is carefully mixed, shaped, and baked to perfection. The result is a cookie that is not just a sweet treat but a work of art. Whether enjoyed with a glass of milk, a cup of coffee, or on their own, they are a delightful addition to any occasion.
Stay Tuned for the Recipe
We hope you're as excited about these Homemade Chocolate Sandwich Cookies as we are. See the recipe below, so you can whip up a batch in your own kitchen. In the meantime, prepare to indulge in quality, flavor, and fun with these cookies that bring a touch of homemade magic to your Halloween celebration. Get ready to bake, decorate, and enjoy!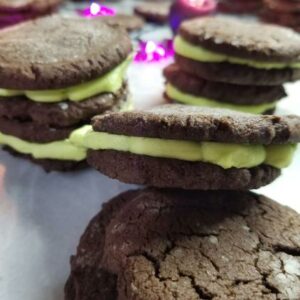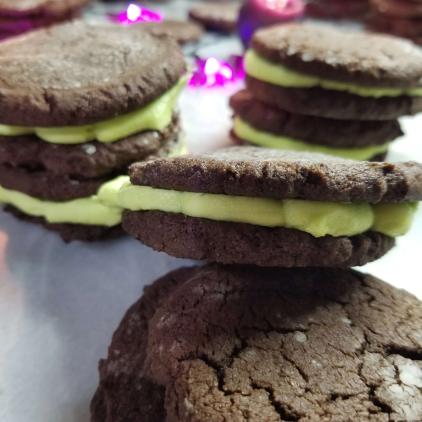 Homespun Chocolate Sandwich Cookies
These cookies closely resemble the classic store-bought version but use high-quality ingredients and offer the option to customize the icing color, making them perfect for any occasion or mood.
Ingredients
1¼

cups

all purpose flour

½

cup

cocoa powder

Dutch process cocoa will make these nice and dark

1

tsp

baking soda

¼

tsp

baking powder

1

cup

sugar

11

tbsp

butter

cubed, room temperature

½

cup

icing sugar

for dusting
Filling
½

cup

butter

room temperature

2

cups

icing sugar

sifted

1

tsp

vanilla extract

food colouring

have fun with the colours
Instructions
Preheat your oven to 350 and line two baking sheets with silpat mats or parchment paper.

Sift together flour, cocoa powder, baking soda, and baking powder.

While mixing on low speed, add the butter and egg.

Continue mixing until dough forms.

Scoop 1 tbsp balls and arrange 12 per sheet. Using a glass or jar with a flat bottom, dip first in icing sugar, then use to flatten dough balls.

Bake 10 minutes and allow to fully cool before filling.
Filling
Cream the butter, sugar and vanilla extract until smooth.

Refrigerate while cookies cool.

Cover the base of one cookie with the filling and cover with second cookie. Repeat until all cookies have been filled.
Notes
The dough will turn out more or less firm depending on how cold or close to room temperature the butter is. Both ways have been tested and they produce similar results, the cookies do not spread.
The filling can be made thicker by adding more sugar or thinner by adding a drop of two of milk.