🐶 This is my go-to cake for special occasions for Nacho. Birthdays, gotcha days, and holidays when everyone else gets something special. I usually also include a scoop of Complete and Balanced from Hilary's Blend. As far as I know, it is only available online through their shop or from your vet.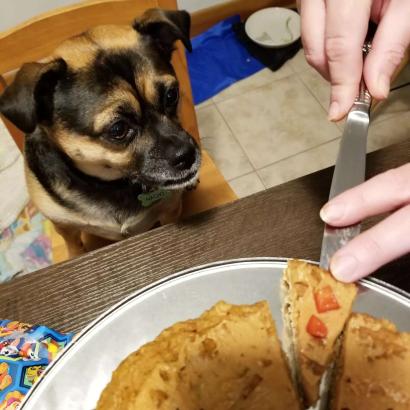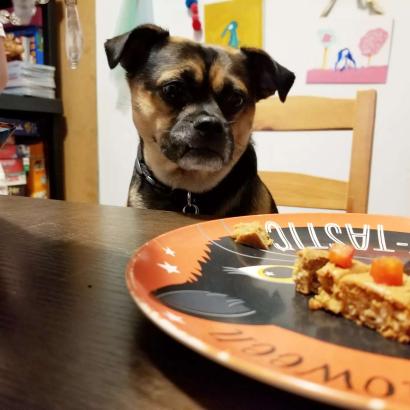 Baking a cake for your pup is like throwing a paw-ty in the kitchen! Get ready for some serious tail-wagging fun as you whip up a delicious treat just for them. And guess what? Your furry friend can totally get in on the action too! Let them be your honorary taste-tester and the official "lick the spoon" expert.
It's a bonding experience filled with laughter, doggie kisses, and the anticipation of a scrumptious cake that'll have their tails spinning with joy! So, grab your chef's hat and let's bake up some doggy delight together!
Pawsitively Yummy Cake
1/2 cup flour
1/2 cup oatmeal
1/2 tsp baking soda
1/4 cup
peanut butter, plus more for topping (make sure it's just peanuts)
1/2 cup applesauce
1/2 cup shredded carrot
1 egg
1 bell pepper (optional for decoration)
Sift the flour and baking soda together, add oatmeal.
Add the peanut butter, applesauce, shredded carrot and egg.
Mix until combined, pour into parchment paper lined 9″ dish.
Bake for 25 minutes.
Let cool, frost with peanut butter, arrange chopped bell pepper in a heart shape on top.
Also take a peek at our Barktastic Chicken Tenders for a fun dinner!