Get ready for a mouthwatering experience with gluten-free peanut butter cookies that will blow your socks off! These cookies are next-level delicious, and the best part? The crumble factor is off the charts, even better than your grandma's classic peanut butter cookies. But here's the kicker – they're totally vegan! Seriously, you'd never even guess. These cookies are like little bundles of joy packed with peanut buttery goodness. So go ahead, indulge in these guilt-free treats that cater to all your cravings without sacrificing taste. Get ready to have your taste buds do a happy dance!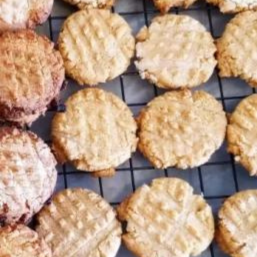 1 1/4 cups Bob's Red Mill GF flour
1 tsp baking soda
1 cup creamy peanut butter
1/2 cup vegan butter
1/2 cup brown sugar, packed
1/4 cup sugar
1 tbsp ground flax seeds + 1 tbsp water (or 1 egg)
1/2 tsp vanilla extract
Sift the flour with the baking soda.
Cream the peanut butter, butter and sugars together. Add the flax egg and vanilla.
Mix the dry into the wet and drop 1/2 tablespoon cookies about 12 to a cookie sheet. I add cross hatches with a fork because my granny always did and I can't imagine not doing it now.
Bake at 350 for 10 minutes.