We are beyond thrilled to announce the launch of our latest knitting pattern, The Lakes, now featured in the pages of Knit Now magazine (Issue 159) and available at newsstands all across the UK. This project has been a labor of love, and we can't wait to share all the delightful details with you.
Our collaboration with Knit Now magazine has been an absolute delight, allowing us to bring The Lakes to life in a way that has filled us with inspiration and gratitude. We sincerely hope that you will fall in love with knitting this shawl as much as we have enjoyed designing it.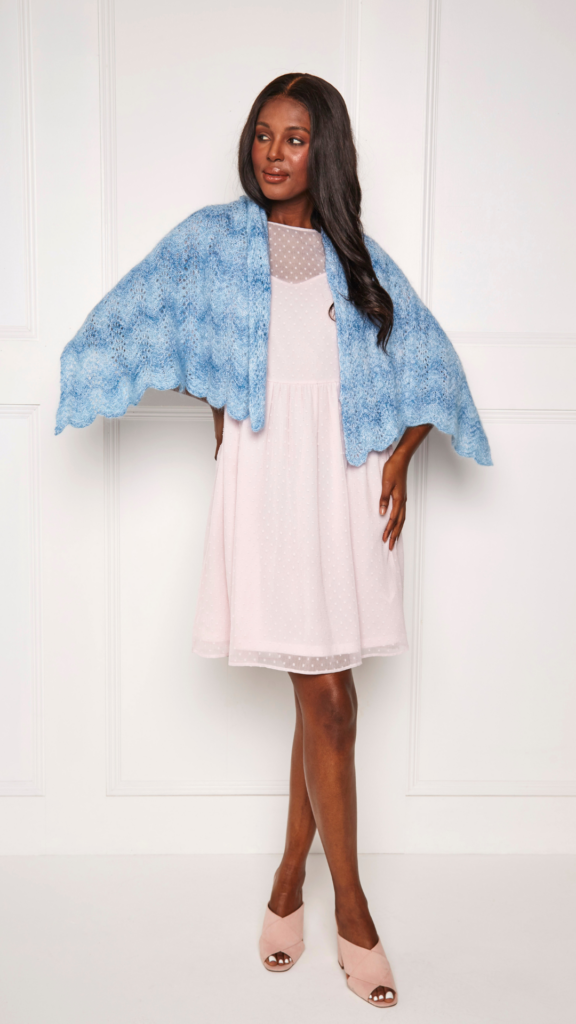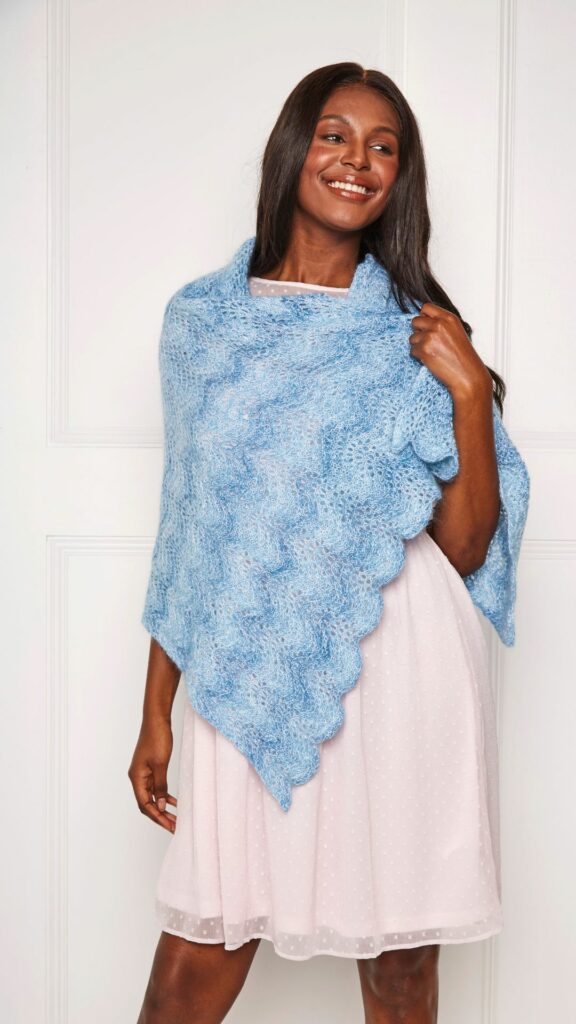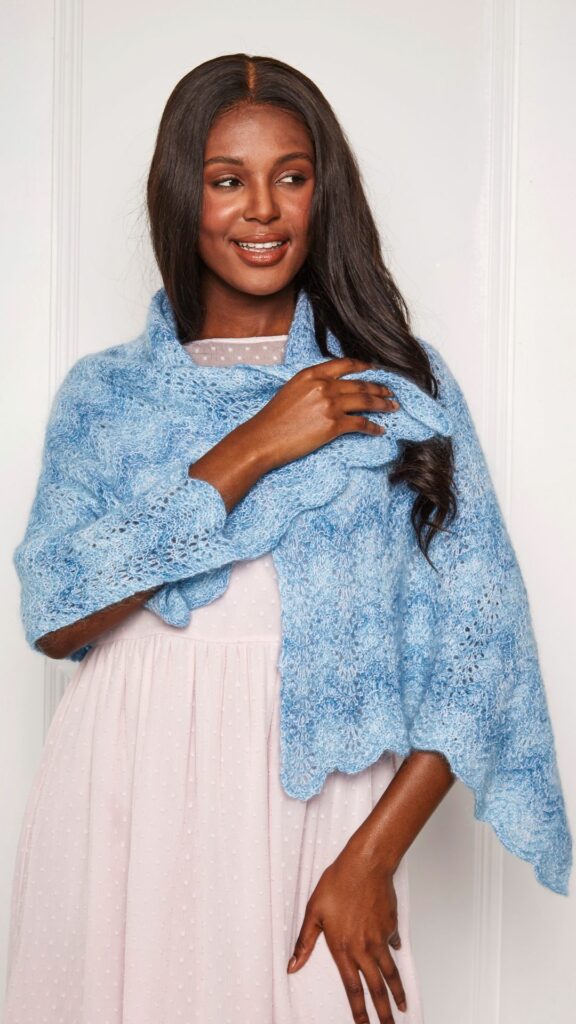 Inspired by Nature
The Lakes shawl draws its inspiration from the serene beauty of lakeside landscapes. The tranquil waters, the gentle ripples, and the big, blue sky that surrounds them served as our muse for this elegant, cozy accessory.
The Perfect Yarn Selection
To capture the essence of these tranquil lakes, we carefully selected two exquisite yarns: Rowan Kidsilk Haze in a soothing shade of blue called Ocean, and a delicate Rowan laceweight yarn in pristine white. What makes The Lakes truly magical is the art of holding these two yarns together, creating a harmonious blend of colors and textures.
Rowan Kidsilk Haze inOcean: This luxurious mohair and silk blend adds an element of opulence to your project. The soft, fuzzy halo and lustrous sheen of Kidsilk Haze bring an undeniable touch of elegance to "The Lakes."
Rowan Laceweight Yarn in White: The delicate laceweight yarn serves as the perfect companion to Kidsilk Haze, adding a sense of airiness and lightness, much like the play of sunlight on the water's surface.
The Artful Design
The Lakes shawl boasts a classic rectangular shape, making it a versatile accessory that can be styled in countless ways. Its simplicity allows the yarn combination to shine, while the ripples throughout add a dash of femininity and charm.
The stitch pattern, thoughtfully designed, is both easy to memorize and engaging to knit. This makes it an ideal project for knitters at all levels—whether you're a novice looking to enhance your skills or an experienced crafter seeking a relaxing yet rewarding project.
The Canvas of Customization
While we've selected blue and white to reflect the lakeside theme, The Lakes shawl invites endless customization possibilities. Feel free to embark on a creative journey by exploring your favorite color combinations. Whether you opt for soft pastels, vibrant jewel tones, or earthy neutrals, The Lakes is your canvas to make it truly your own.
Share Your Masterpieces
We're eagerly awaiting the chance to admire the stunning shawls you create using The Lakes pattern. Share your progress and finished projects on Instagram and tag us @craftopia.collective Witnessing the creativity and uniqueness that knitters bring to their projects is always a joy.
Thank you for embarking on this exciting knitting adventure with us. We sincerely hope that The Lakes shawl brings you as much joy in the making as it has brought us in its creation. Happy knitting, and may your stitches be as peaceful as a serene lakeside view!