🧶 Are your yarn scraps piling up, waiting for the perfect project to breathe new life into them? Look no further! The "Scrap-tastic Blog Hop" hosted by Regina P Designs is here to spark your creativity and put those leftover yarn bits to fantastic use. This is a celebration of resourcefulness, affordability, and the joy of turning scraps into treasures.
Discover the World of Scrap-tastic Crafting
The Scrap-tastic Blog Hop is your gateway to a world of ingenious patterns designed exclusively to utilize your cherished yarn scraps. No need to buy new yarn – we've got you covered with projects that embrace the beauty of your existing yarn collection.
Patterns for Just $1 – Grab Them in 24 Hours!
Here's the scoop: during the Scrap-tastic Blog Hop, every day brings a new pattern available for just $1! That's right, for the price of a single dollar, you can access patterns that make the most of your cherished yarn leftovers.
Surprise, Surprise! Our Day is a Mystery
We're excited to be part of this yarn-spiration extravaganza, but we're keeping our specific day a delightful secret. To find our featured pattern, simply stay tuned to the Scrap-tastic Blog Hop page every day. When it's our turn, we'll be here, ready to share our scrap-tastic creation with you!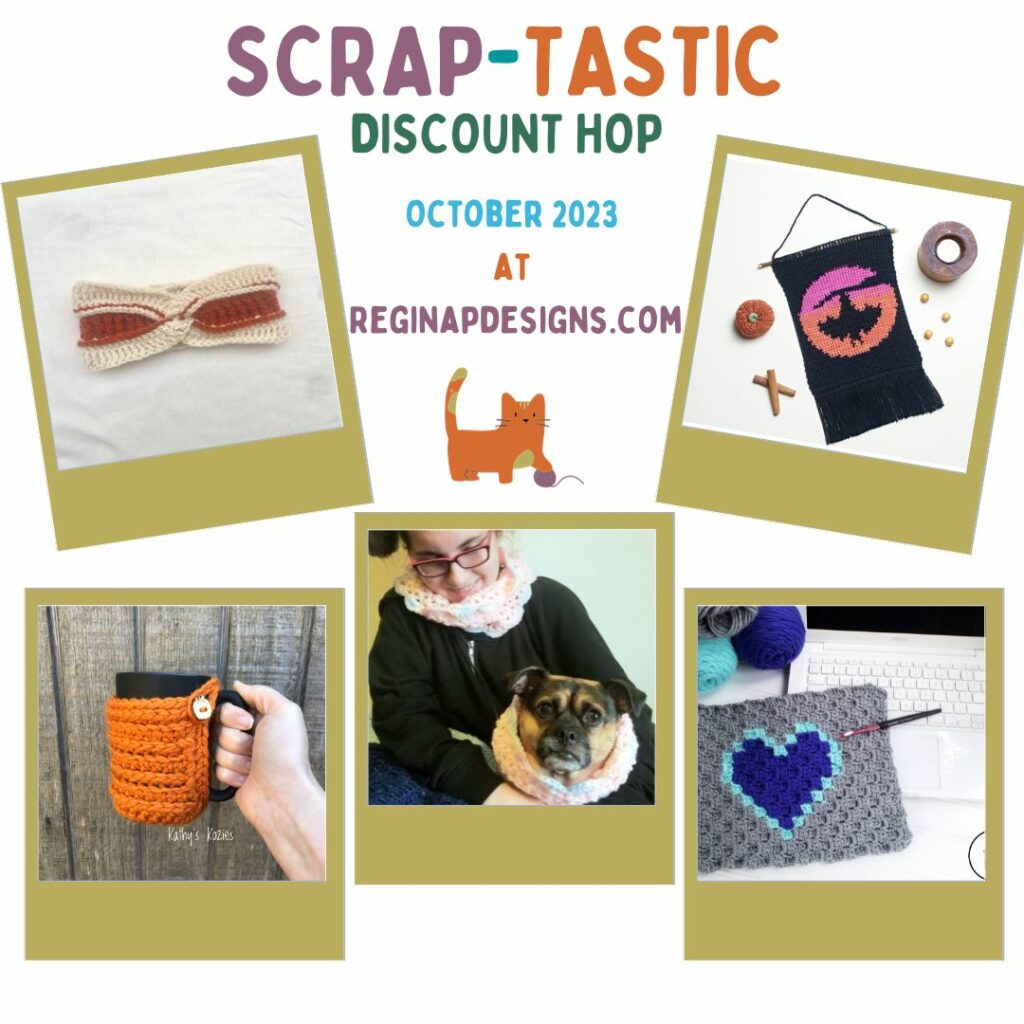 How to Dive into Scrap-tastic Crafting
Joining the Scrap-tastic Blog Hop is as easy as rummaging through your yarn stash. Here's how you can get involved:
Visit the Blog Hop Page: Make it a daily ritual to check the Scrap-tastic Blog Hop page to discover the featured pattern of the day.
Grab the Pattern: When you see our pattern in the spotlight, snatch it up for just $1 during the 24-hour window.
Gather Your Scraps: Dust off those yarn remnants, select your favorite colors, and get ready to transform them into something beautiful.
Share Your Creations: We're eager to see what you craft! Share your finished projects on social media with the hashtag #ScrapTasticBlogHop to connect with fellow scrap-tastic crafters.
Crafting Joy: Enjoy the thrill of creating something marvelous without buying new yarn. Let your yarn scraps shine!
Join Us for Scrap-tastic Adventures!
The Scrap-tastic Blog Hop is your chance to turn leftover yarn into masterpieces while embracing the creativity that comes from resourcefulness. It's a celebration of making the most of what you have and discovering the hidden treasures in your yarn collection.
Mark your calendars, visit the Scrap-tastic Blog Hop page daily, and prepare to embark on a scrap-tastic crafting journey with patterns designed to make your yarn scraps sing. We'll be here on our special day, and until then, may your crafting be filled with joy and the magic of yarn scraps. 🧶✨