🚗🧶 Hit the knitting road with Life is a Highway, a fabulous and straightforward striped sweater that's ready to take you on a cozy journey! 🌈✨ This charming design lets you cruise through your project with ease, as you knit stripes in DK yarn, while adding a touch of luxury with the soft of a dreamy mohair blend.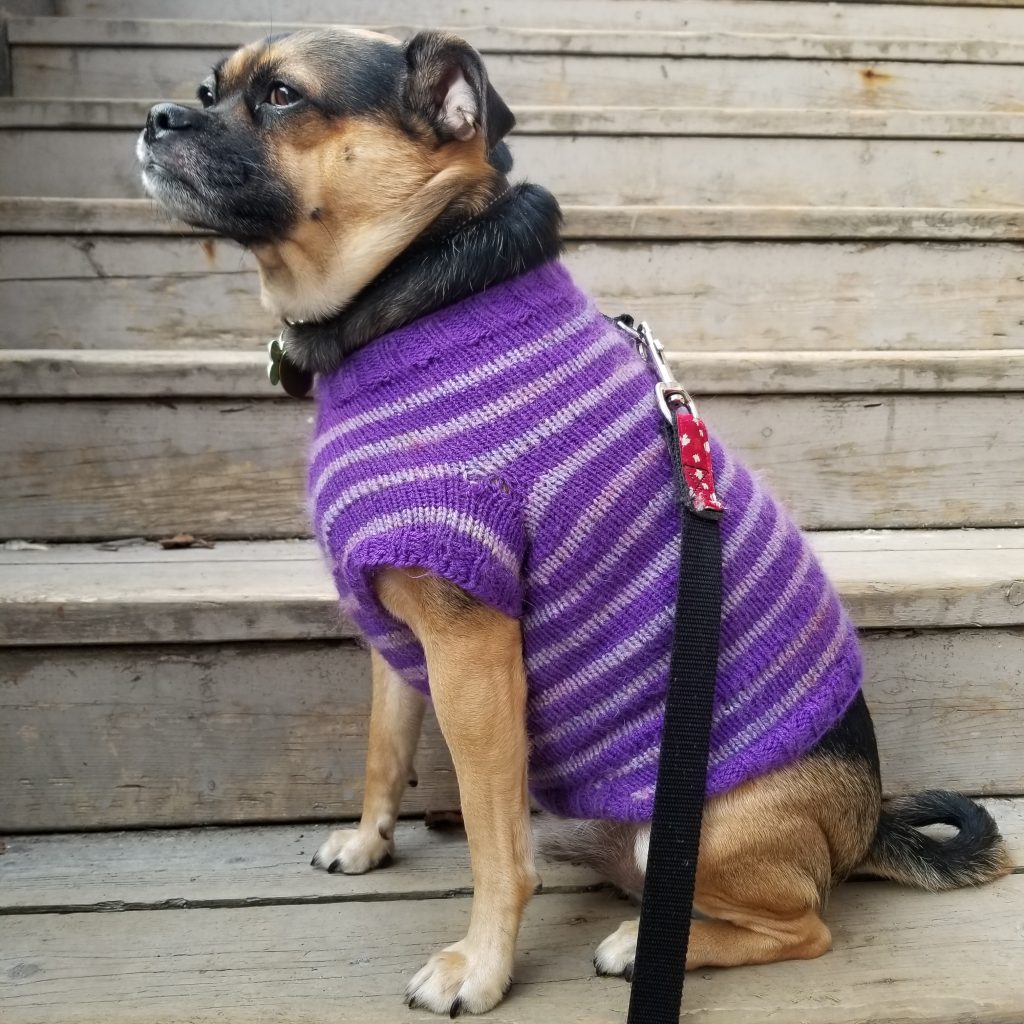 🌟🚘 Whether you're a knitting novice or a seasoned pro, "Life is a Highway" is your perfect road trip companion. The smooth DK yarn glides through your fingers, and the mohair adds an irresistible touch of glam. The result is a sweater that's both comfortable and chic, like a road trip that leaves you with unforgettable memories. So, pick your favorite color combo, rev up your needles, and let's hit the knitting highway together! 🛣️🧶 Enjoy the ride as you create a fabulous striped sweater that's as cozy as a car on an open road! 🌈🚗
This pattern is available here:




Pattern Notes:
This sweater has a really simple (and seamless) construction that results in a well fitting and adorable dog sweater! It is knit top down, in the round with chest increases in the front. The armholes are the best part! They are first knit flat in scrap yarn and then later picked up and finished for a totally seamless sleeve, knit in pattern with the rest of the stripes. The tummy shaping is knit flat and then the bottom ribbing is picked up and knit in the round again to finish it off. Instructions are included for an optional harness hole on the back!
Techniques:
-long tail cast on
-increasing
-decreasing
-knitting in the round
-knitting flat
Sizing
XS, S (M, L, XL) to fit a chest measurement of;
11-13, 13-16 (16-20, 20-24, 24-28)"
28-33, 33-40 (40-51, 51-61, 62-71)cm
The sizes are based off the back and chest measurements, (taken across the widest part of the back and at the largest part of the rib cage). The armholes are generous, bigger is better when it comes to armholes!
Suggested Yarn:
Paintbox Simply DK
Yardage:
Main Colour:
128, 160 (200, 236, 275) yards
118, 146 (183, 216, 251) metres
Contrast Colour:
48, 60 (76, 90, 105) yards
44, 55 (70, 82, 96) metres
Optional Mohair:
48, 60 (76, 90, 105) yards
44, 55 (70, 82, 96) metres
Videos:
This pattern includes four helpful videos!
Bind Off & Cast On For Leash Hole
M1L & M1R increases
Picking Up & Knitting Seamless Sleeves
Jogless Join (for stripes)