The most wonderful time of the year is upon us, and there's no better way to celebrate than by decking the halls with holiday cheer. Whether you're an experienced crafter or just starting your creative journey, we have something truly special in store for you. Welcome to our featured day of the Holiday Decor Hop, a festive event hosted by Cozy Rosie UK. It's the ultimate destination for holiday crafting inspiration, and we're thrilled to be a part of it!

Unwrap the Magic
The Holiday Decor Hop is your passport to a world of delightful holiday decor patterns. Picture this: from November 3rd to November 17, each pattern featured in this hop will be available for free for a whole 24 hours. Yes, you read that right! It's the perfect way to embrace the holiday spirit, one crafty creation at a time.
Introducing Our Pattern: Christmas Tree Farm Ornaments
Here at Craftopia, we're absolutely delighted to be a part of this wonderful event. Our pattern, Christmas Tree Farm Ornaments, is sure to sprinkle a little extra enchantment into your holiday season. These sweet little ball-shaped crocheted ornaments are not just cute, but they also come with a Christmas-themed appliqué that adds that extra touch of magic.
Why We Love Them
We've been busy bees crafting these delightful ornaments for our own holiday decorations this year, and they've brought an extra dose of holiday magic into our homes. But wait, there's more! The smaller versions of these ornaments make for fantastic gift toppers, too. So not only do they adorn your tree, but they also make the perfect finishing touch for your gifts to loved ones.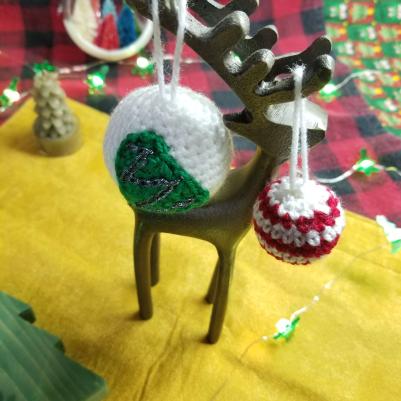 Join the Holiday Decor Hop
Don't miss out on the chance to transform your home into a winter wonderland with these fabulous holiday decor patterns. Join us and the talented creators of the Holiday Decor Hop from November 3rd to November 17 to discover a wealth of crafty inspiration. Each day, a new pattern will be unwrapped for your crafting pleasure, absolutely free for 24 hours.
Share the Holiday Joy
We'd love to see your creations and how our Christmas Tree Farm Ornaments bring smiles to your holiday season. Share your finished pieces and your experience with us on social media, tag us @craftopia.collective Let's spread the holiday joy and creativity far and wide.
Get Ready for the Holidays
So, mark your calendars, set your alarms, and get ready to craft your way into the merriest holiday season yet. Happy crafting, and let's make this holiday season truly unforgettable with the Holiday Decor Hop!