🌟✨This sweet and simple design celebrates girl power with its charming lettering and sparkling details. Whether you're a seasoned cross-stitcher or a complete beginner, this pattern is perfect for anyone who loves creating heartfelt crafts.🧵🌈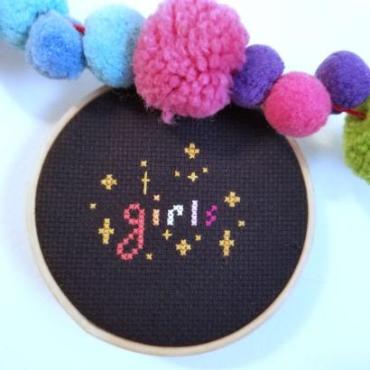 This pattern is available here:


Celebrate the power and beauty of girls with this delightful and empowering cross stitch pattern! Whether you want to show your support for the LGBTQ+ community or simply celebrate the strength of all girls worldwide, this design is sure to add a touch of magic to your stitching projects.
Featuring the word "Girls" surrounded by twinkle stars, this pattern is both fun and cute, making it a perfect addition to any contemporary decor. It's an ideal project for cross stitch enthusiasts who want to create a meaningful piece that radiates positivity.
This listing is for an instant PDF download, which means you can start stitching right away! Please note that no physical materials or finished product will be shipped – this is a digital pattern for you to download, print, and use at your convenience.
Pattern details:
Design size: Approximately 2.5 x 2 inches (when stitched on 14-count Aida)
Stitch count: 23 x 21 stitches
Colors: 6 (feel free to customize with your own color palette!)
Once you've downloaded the pattern, you can choose your preferred fabric, floss, and hoop size to make it uniquely yours. Let your creativity shine as you bring this design to life with your favorite stitching techniques.
This cross stitch pattern is suitable for beginner stitchers and makes a quick project for more experienced stitchers. The pattern includes a full-color chart, symbol key, and instructions to guide you through the stitching process.
Spread love, positivity, and empowerment with your needle and thread! Stitch Girls and celebrate the strength, beauty, and unity of girls everywhere.