Bring nature into your stitches with our curated collection of cross stitch patterns! In this delightful roundup, we've found 15 stunning cross stitch patterns. With this wide range, you're sure to find the perfect cross stitch pattern for you. Each of these patterns captures the essence of the natural world in every stitch. No matter your experience level, these designs will ignite your creative spirit and bring you to a new world full of nature. From delicate flowers to beautiful butterflies, each pattern brings nature into your home.
Indulge in the therapeutic art of cross stitch as you embark on an adventure with each pattern. These patterns will bring you through lush forests and picturesque gardens! Our handpicked selection of nature-inspired cross stitch patterns has a blend of styles. So, no matter what you prefer, you're bound to find a pattern you love today. Discover the joy of bringing nature to life in your stitches with each of these patterns.
Explore the endless possibilities to create a cross stitch masterpiece in this roundup! Each pattern brings the beauty of nature to life in its own unique way. Whether you prefer blooming flowers or some potted plants, this roundup is for you. These cross stitch patterns will ignite your imagination and bring you hours of creativity. Get ready to start a stitching journey like no other. The allure of nature and the pull of stitching come together in these patterns. Grab your thread and your needle, because we're about to jump into some gorgeous patterns!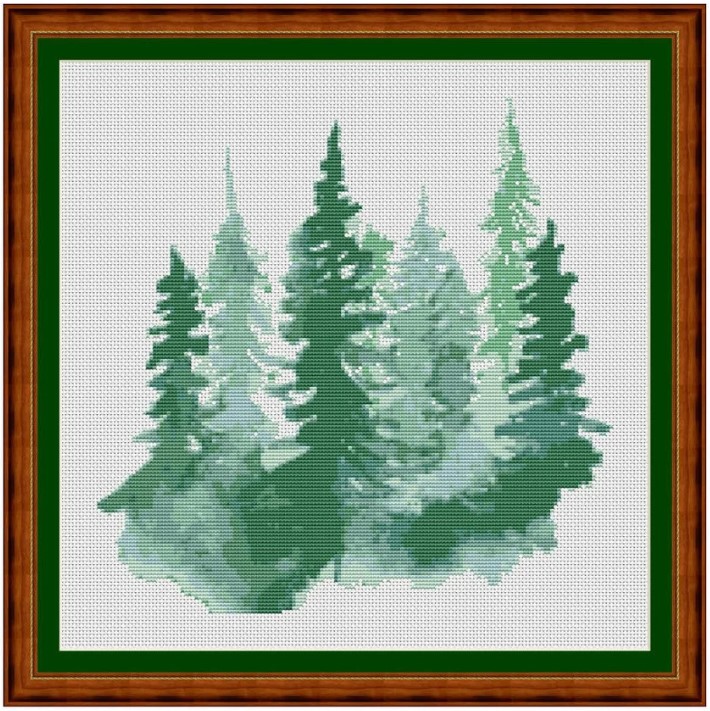 First up we have this gorgeous cross stitch pattern. This is the watercolor forest pattern, and it combines the elegance of watercolor art with cross stitch. The result of this style is a unique and stunning masterpiece! While it is a large pattern, it only uses eight colors, which means thread management will not be a pain. Each delicate stitch in this pattern brings to life vibrant hues and intricate details. It mirrors the enchanting allure of a flourishing forest beautifully. This cross stitch pattern is sure to provide countless hours of creative joy, so if you're in for the long haul, it's perfect for you.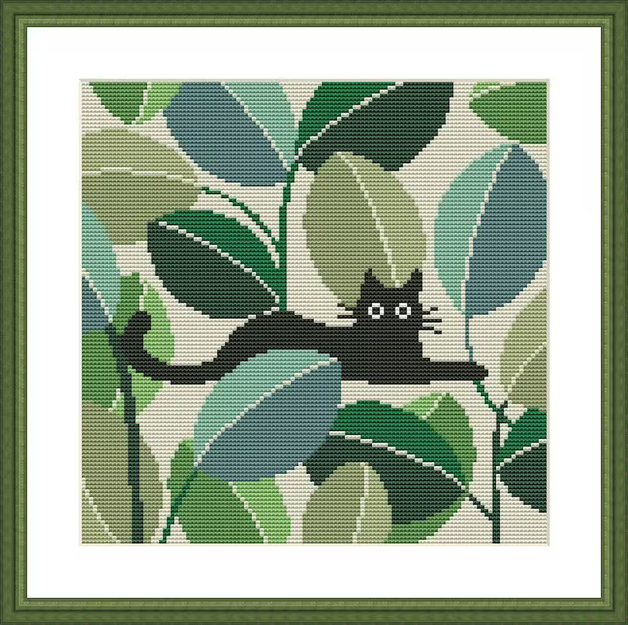 Second, we have this adorable cross stitch pattern! This is the black cat in green leaves pattern, perfect for cat-lovers everywhere. In this pattern we see a contemporary style in both the leaves and the charming black cat. This modern nature-inspired design brings a fresh and innovative style to cross stitch. Embrace the blend of a classic craft and a modern aesthetic when you stitch this lovely pattern. Your creativity will flourish as you bring this unique cross stitch pattern to life. The black cat contrasts well against the leaves, creating a visually striking design. Enjoy the timeless beauty of this cat amongst green leaves!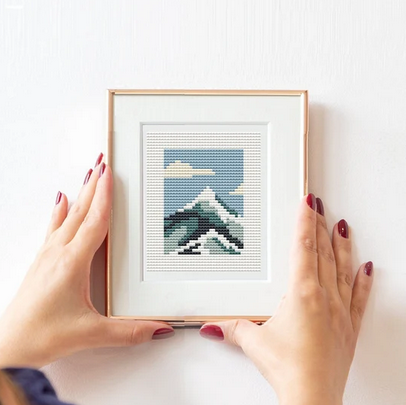 While large cross stitch creations are gorgeous, smaller pieces are best for some. With that in mind, we've included a few small cross stitch patterns. The first of those is this cute mini mountains cross stitch pattern. Mountains are one of the most striking occurrences in nature with their sharp lines and bold contrast on the horizon. We adore this mini mountain pattern and we know it could be the perfect piece to add to your wall. This pattern doesn't use many different thread colors, making it easy to complete. Cross stitch beginners will find this pattern satisfying and not too challenging. It's the perfect pattern for all skill levels!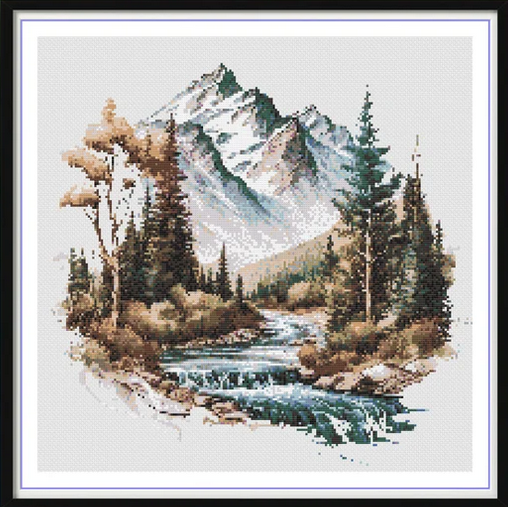 In addition to the last mountain-themed pattern, we have this watercolor mountain piece. This is a more complex cross stitch pattern and it uses many more colors than the previous pattern. However, this helps highlight how different the same landscape can be in two styles! Exploring cross stitch patterns can seem as though it's just about the subject matter, but it's also about the style. Finding a style which you like is important as you search for the perfect pattern. Nature-inspired cross stitch patterns are often made in this watercolor style. This is because it suits the natural aesthetic quite well.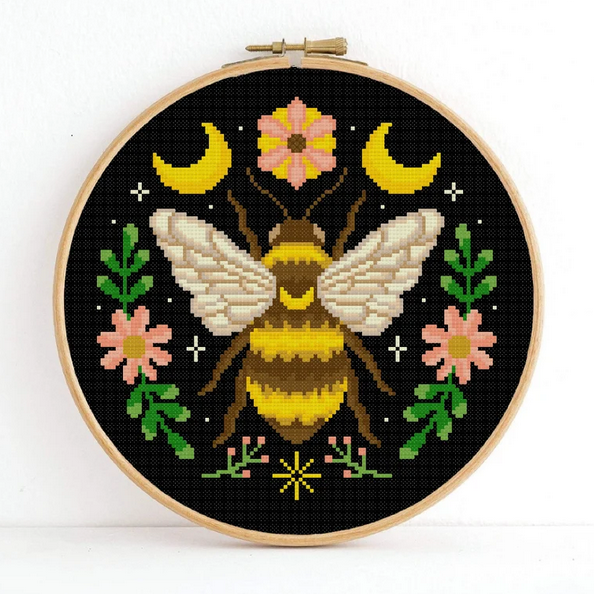 Next we have this insect pattern bundle. Insects aren't everyone's cup of tea, but they are an important part of nature. Many people who love nature adore bugs, even if they don't always like being around them. This cross stitch pattern bundle combines eight different insect patterns into one purchase. It includes a bumblebee, butterflies, moths, a dragonfly, and even a beetle! Insects are one of the most important parts of nature. In fact, these tiny creatures have a massive impact on their environments. Stitch up these patterns and bring a touch of nature into your home.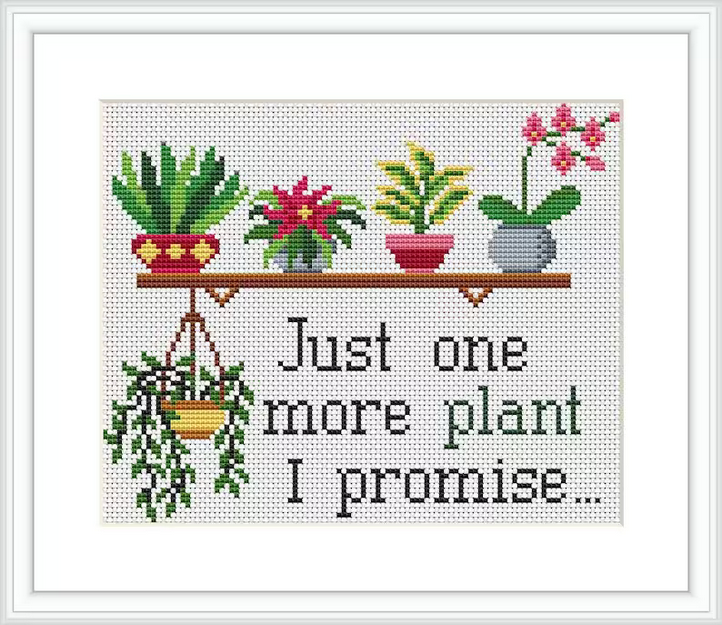 Next we have a pattern that many plant lovers can relate to. If you enjoy cross stitch patterns with natural elements, you might have a plant or two. Additionally, you may have a friend who loves collecting plants. Either way, this pattern is perfect for all the plant-lovers in your life, and it could be a wonderful decoration. Keep this pattern in mind the next time you're looking for a gift that your plant-loving friend will like! Overall, this cross stitch pattern is a fun and humorous way to add a touch of nature to your decorations.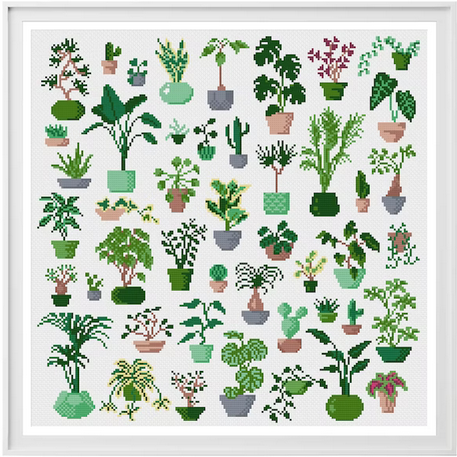 Next up is this stunning pattern with a wide variety of different plants. You could complete this pattern in two different ways. First is the most obvious: stitch it exactly as it's shown here. However, the second option brings a touch of versatility as you can stitch each plant individually. For example, some of the smaller ones would fit well on a bookmark. Also, they would look lovely in mini embroidery hoops! We adore this pattern for its creativity and the many different things that we can create with it. So, if you're interested in some mini plant patterns, many are available here.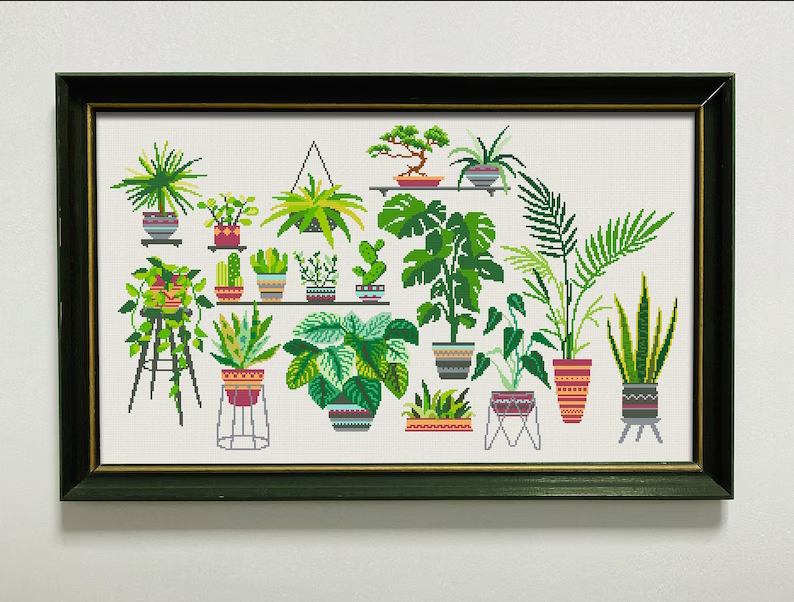 Household plants are the perfect touch of nature to add into your home, and this pattern fulfills that need perfectly. In addition to having plants in your home, you can create this gorgeous pattern! Likewise, this pattern is perfect for those who love plants but can't add them to their home. So if you're a plant lover, this pattern might just be for you! We love the bright colors used for the leaves as well as the variety found in the designs on the pots in this pattern.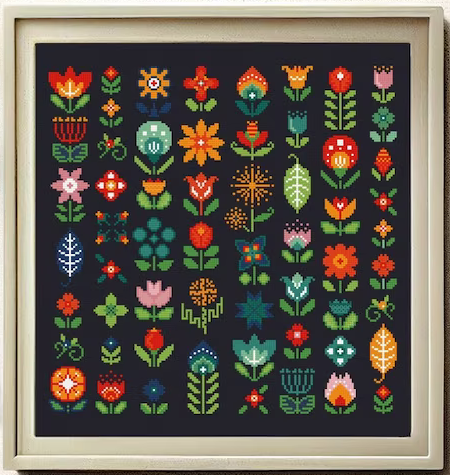 Next up we have another pattern that works not only as a large piece but also as many individual patterns. These small flowers are gorgeous as pictured in the pattern. However, we know they'd also look lovely when used as mini patterns. Each and every small flower in this pattern could be stitched on its own as a part of another project. For example, you could use these in mini embroidery hoops as small pieces of wall art, adding a handmade touch to your decor. This pattern combines stunning aspects of nature with a bright and bold contemporary style. So, it's perfect for anyone who loves to mix modern and natural elements in their creations.
Next we have a pattern that many people will adore! A common tradition with these stunning flowers is to blow the seeds away into the wind and make a wish. Dandelions are a wildflower that many are fond of, even those who aren't usually particularly fond of nature. However, those who are fond of nature will find this pattern particularly stunning. The wispy nature of dandelion seeds can be incredibly hard to capture in art, but this cross stitch pattern has captured it effortlessly. Overall, we believe that this pattern is gorgeous and many people will adore creating it.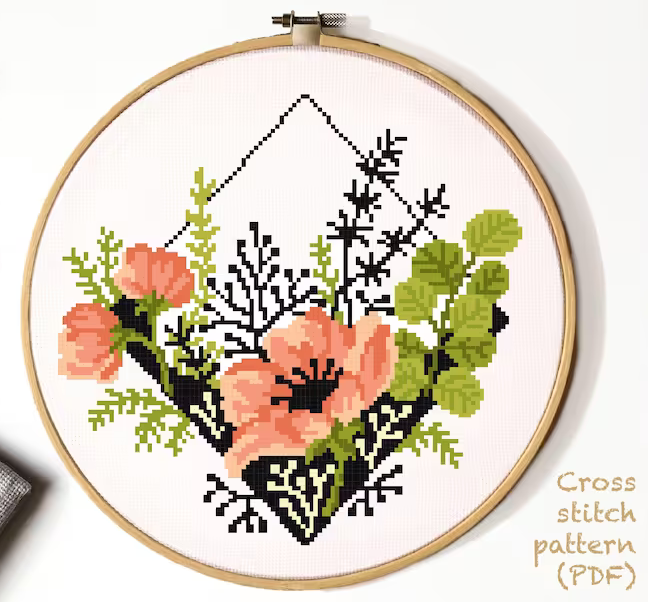 Our next pattern combines floral elements and a modern style to create a striking design. In addition to the floral design, the black diamond around the flowers creates the illusion of a planter of sorts. The bright colors of the flowers and bold black of the background brings a stark contrast to the design. Combining these elements creates a cross stitch pattern that seamlessly blends traditional and contemporary aesthetics. Additionally, the vibrant hues of the blossoms pop well against the other colors in the design. Overall, this is an ideal project for those seeking a captivating and timeless project.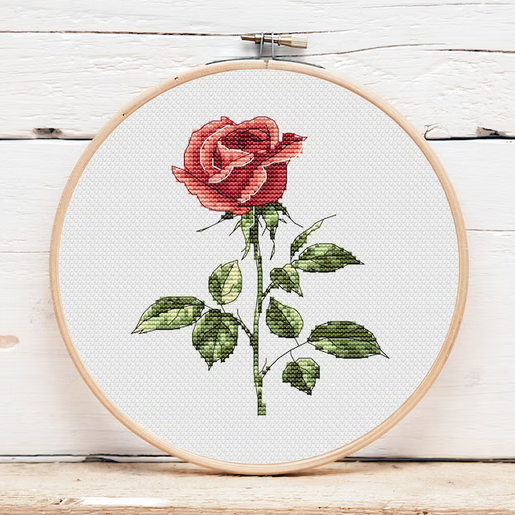 This cross stitch pattern for a red rose exemplifies elegance and grace. Firstly, the intricate details in the varying shades of color create a very realistic design. In addition to that, the back stitch in this pattern adds a final and beautiful touch to the design. This red rose design reminds us of the stunning scarlet roses we've seen in many movies before. So, if you're looking for something to combine your love for nature with your love for a certain show, this is the pattern for you. We adore this gorgeous pattern and the level of attention to detail the artist clearly has.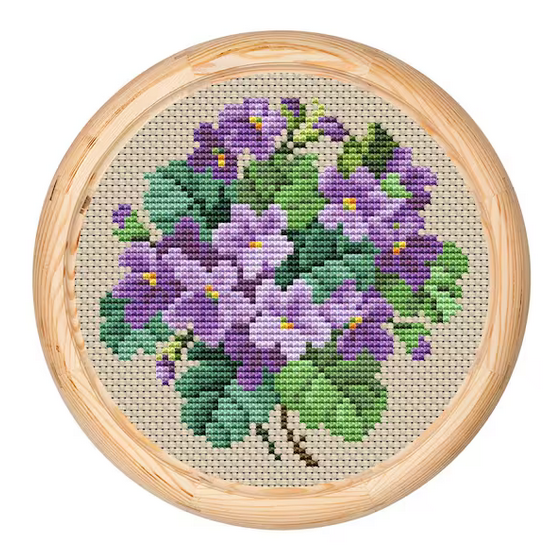 When searching for cross stitch patterns, you're bound to discover a range of modern and vintage patterns. Additionally, there are many gems to be found in both types of patterns. So, we knew we had to include a vintage style cross stitch pattern in this roundup. We couldn't resist when we found this gorgeous purple floral pattern. The subtle differences in the purple shades creates depth in the flower petals while retaining a soft appearance. Overall, this pattern is perfect for those who love to see the different flowers nature has to offer. It'll add a pop of floral color to your home!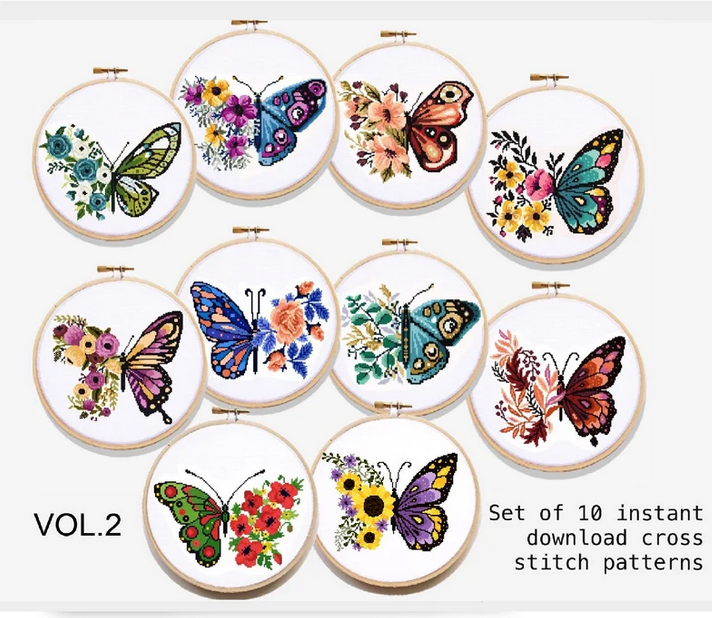 Cross stitch bundles are one of the best ways to add to your collection. After all, once you find an artist you like, it's very tempting to buy all of their patterns. This set of cross stitch patterns is inspired by butterflies and the flowers they adore. Butterflies are a bug that many love, even those who aren't all that fond of insects can often admire their beauty. These designs are a gorgeous take on the combination of butterflies and classic floral motifs. We adore the bright colors and the creativity used in creating these stunning patterns!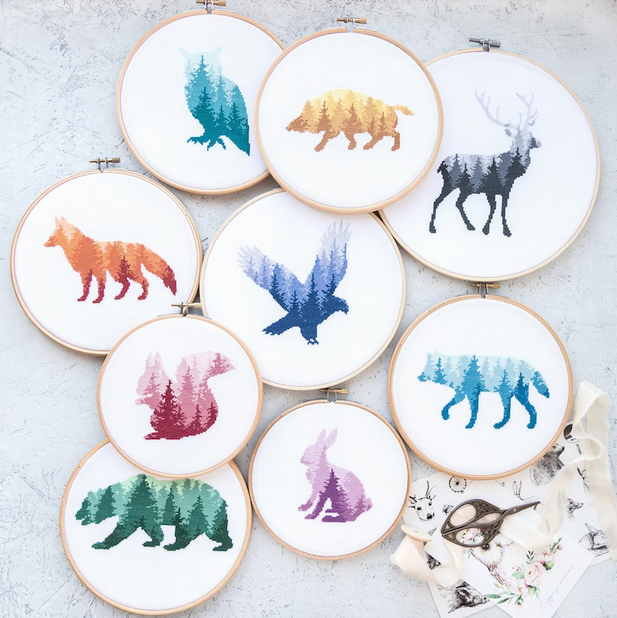 Of course, we can't talk about nature inspired cross stitch patterns without including a few animal inspired patterns! This gorgeous pattern bundle combines the stark contrast of animal silhouettes with the lush watercolor forest designs we saw earlier. This combination creates a bright and striking design, bringing each silhouette to life. This bundle includes a bear, fox, wolf, owl, deer, wild boar, squirrel, eagle, and a hare. The wide variety of animals available means that you're bound to discover an animal you love among them all. These gorgeous patterns would be perfect alongside other nature-themed decor.
Embrace the Beauty of Nature
These cross stitch patterns encourage us to embrace the beauty of nature and bring it into our homes, where we can enjoy it daily. We can do this in many ways with this wide variety of patterns! These gorgeous patterns can be created as wall art, pillow covers, bookmarks, and more. The sky is the limit when it comes to what you can do with your cross stitch creations. Begin your next cross stitching adventure with one of these patterns today and bring another piece of nature into your space. Happy stitching!